More than $2 million raised for Alberta Children's Hospital
Story by Kerri Robins
Imagine a hockey game lasting 248 hours?
Well, hockey fans, that's exactly what happened when 40 hockey players from 'Team Hope' and 'Team Cure' hit the ice and netted a major powerplay for brain health at the Alberta Children's Hospital.
The marathon game last May raised just over $2 million for the Alberta Children's Hospital Foundation. The money will be used to support research, programs and equipment needed to treat children's and young adolescents' brain-related illnesses and injuries.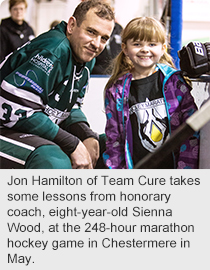 One of those kids is Sienna Wood, 8, who served as honorary coach during the marathon game.
"Sienna has had 33 brain surgeries since she was born and we almost lost her twice," says mom Brenda Wood.
Sienna was born with a cyst on the lining of her brain on the left side of her head. It was so large, it compressed her brain almost to the right side of her head.
"Sienna's doctor actually built a shunt specifically for her that drains off fluid created by the cyst," says Wood.
The shunt is basically a tube with a number of holes in it that is inserted in the brain space. It draws fluid into the abdomen where it's later expelled from the body.
"We can't express the gratitude we have for the guys playing hockey," says Wood. "Brain research is how Sienna received her customized shunt — I don't even want to think about what it would be like without it."
The brain develops vision, speech, motor function, logic and emotion in early childhood. Illness and injury to the brain during this critical period can have lifelong effects, including seizures, migraines, depression and cognitive issues.
Brain-related health issues affect thousands of children in Alberta each year. Brain health experts at the Alberta Children's Hospital and Alberta Children's Hospital Research Institute want to better understand the inner workings of the brain so they can continue developing new treatments.
Thanks to the "Oilympics" — the group of Calgary oil and gas businessmen behind the Hockey Marathon for the Kids — brain health at the Alberta Children's Hospital is getting a real boost so that kids with brain injury and illness have the chance to grow up to be the best they can be.
The game was played at the Chestermere Recreation Centre. An earlier marathon in 2012 raised $1.5 million for pediatric intensive care and oncology.
"We came up with the idea for holding the marathon game fundraiser after seeing the devastating effects cancer and its treatment has had on my brother," says Alex Halat, a 37-year-old father of three whose 35-year-old brother was diagnosed in 2012 with Stage 3 B-cell lymphoma, a cancer of the white blood cells.
"We couldn't imagine a child going through that so it was crystal clear the funds raised would go to the Alberta Children's Hospital."
Drawing capacity crowds totalling almost 10,000 people over 10 days, the players scored a hat-trick through pledges, a silent auction, and an on-site benefit concert that featured various country music acts.
Major sponsors for the game also included The Crist Family Foundation; Scotiabank; and Star Valley Oilfield Services.
Saifa Koonar, President and CEO of the Alberta Children's Hospital Foundation, is grateful for the players' incredible efforts on behalf of the foundation.
"Knowing how critical brain health is, it's inspiring to see so many people in the community work together in finding more ways to help our children who are suffering," says Koonar.
For more information, visit www.childrenshospital.ab.ca.