What it means to give back
Story by Kristen Goruk
It's one thing to stay connected to your community and take the time to give back, but for residents in long-term care at the Fairview Health Complex, their social action club is raising the bar to a global level.
The club, which got its start last fall, encourages residents to get involved with choosing charitable causes to support and the means by which they do that.
They've raised money for the MS Society with a bake sale, sold daffodils for the Canadian Cancer Society, and some of their more recent efforts have been focused on collecting non- perishable food items for the food bank and raising money to purchase items for their Operation Christmas Child shoe boxes.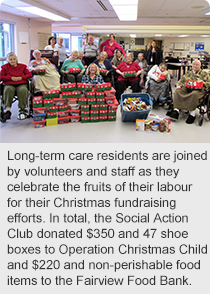 "Even though they're within a facility, they've spent time supporting others and giving back, some of them have done it all their lives prior to coming here. We support local campaigns and also, ones throughout the world and in doing so, it gives the residents back that sense of community," says Susan Gross, Recreation Therapy Assistant at the health complex.
Staff at the complex have really embraced the club, supporting their sales and events when they're held in-house and the residents make sure that they also choose local causes in addition to their global efforts.
"We've supported a farm family whose husband had an accident while working and we donated $100 towards helping them out. We're trying to reach out both within the facility and its staff, but also outside in the community," Gross says.
Long-term care resident Kathleen Anderson, 71, has been involved with the club since the beginning. She likes that it not only gives her something to do, but it's something she enjoys and has a voice in.
"It's important that everybody give back to the community somehow and I think that some people didn't realize that when they got into the club. They didn't know how far reaching it could go or would go," Anderson says.
In November, the residents were busy putting together the shoeboxes they donated to Operation Christmas Child.
"It's nice seeing the outcomes. We did 40 Christmas boxes last year that went to kids all over the world. We don't know exactly where they go, but we know they go to somebody who really needs them. We were aiming for another 40 this year, and we put together 47," Anderson says.
Gross says the outcomes not only affect those who the club supports, but the members as well. They've found another way to stay involved with their community and Gross is excited to see what projects and organizations the club will support in the coming year.
"Now they're more keen to hearing what is going on in the community, through visiting with family, friends and staff. They're more aware and listen about where they can help out."