Framework aims to deliver end-of-life care where patients want it
Story by James Stevenson
Pam Cummer remembers clearly when her mom, Janet, was diagnosed with ovarian cancer.
She fought it head on with surgery, chemotherapy and radiation. And Janet lived two more happy years during which time she travelled with her husband, Ed, visiting family and friends and enjoying life.
In the third year, she began to get weaker and more frail. She received excellent care in hospital but just wanted to go home. So her family took her there.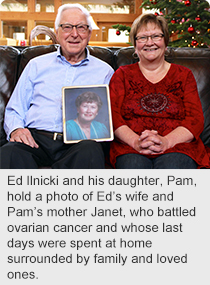 "Dad, along with my brother Brian and I, cared for her with the help of the palliative home care team," says Cummer. "Mom's family doctor paid weekly house visits, often listening and acknowledging the care that we were providing. The pharmacist also made home deliveries, the home care nurses phoned frequently and visited whenever we asked them to. We had an on-call number, so we never felt alone."
The day before Janet died, many of her grandchildren visited and spent private time with her. She died holding Ed's hand, her husband of 57 years. She didn't need anything else.
It's stories like Janet's that bring home the importance of the new Palliative and End of Life Care Alberta Provincial Framework, which aims to strengthen the care provided and improve access for all Albertans.
"The goal is to ensure that patients and families have the end-of-life care that they require to help them stay in their communities and homes, if that's what they choose," says Dr. James Silvius, Medical Director for Seniors Health at Alberta Health Services.
As part of the new framework, many supports and initiatives will be developed and implemented with the goals of strengthening services and options for Albertans within their communities.
One foundational initiative that has already begun provides access to palliative specialist physician support for primary health care providers no matter where they live in Alberta.
Additionally, there'll be research and education for patients, families and care providers to increase confidence and provide tools in the delivery of quality care, and data will be gathered to help further hone the system in the future.
According to a recent public opinion survey from Harris/Decima, completed for the Canadian Hospice Palliative Care Association, 86 per cent of Albertans would prefer to die at home or in the community instead of in hospital. Currently, as few as 15 per cent of Albertans die in their homes or communities, and that's depending on location and disease.
"Along with a new palliative specific website built as part of the personal health portal for Albertans coming next year, this is going to help families better understand their situation, the choices they have and what resources are available to them," says Silvius. "I encourage all Albertans to talk to their physician, caregivers, family and friends about their end-of-life choices for future health care."
Palliative and end-of-life care for all Canadians is an important endeavour and especially timely with an aging population.
"The Canadian Hospice Palliative Care Association commends the Alberta government and Alberta Health Services for their leadership in developing a provincewide framework bringing and further enhancing the palliative approach and advance care planning to its citizens," says Sharon Baxter, Executive Director, Canadian Hospice Palliative Care Association.
"This approach will lead to improved access and service options across all settings of care and benefit patients, their families and caregivers."