Edmonton clinic a one-stop shop for specialized therapy
Story and photo by Shelly Willsey
When Carol Reed had hand therapy in June, her rehabilitation therapist ensured it didn't ruin her whole golf season.
The 51-year-old Edmonton woman has been seeing a therapist at Royal Alexandra Hospital's hand therapy clinic for six months following a third surgery to correct a genetic connective tissue disorder that bends the fingers towards the palms.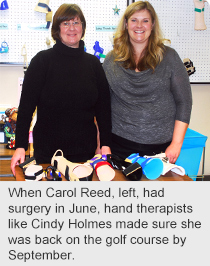 Reed and other Edmonton and area residents with hand and wrist injuries have been getting specialized rehabilitation treatment more quickly and efficiently with restructuring of the hand therapy clinic earlier this year.
Reed says the clinic is great.
"I can zip down to the Royal Alex, have my therapy for one hour a week and I'm done. It's a one-stop shop for all my rehab," she says.
"My therapist asked me what my goals were. I wanted to be able to golf, so I needed to strengthen my hands and be able to make a fist. I had surgery on June 4 and I was able to golf at the end of September. Rehab made sure my surgery didn't ruin the whole season."
Patients can now see one certified hand specialist for all of their hand rehabilitation needs. Previously, patients would need to book separate appointments with a physical therapist and an occupational therapist.
"Patients receive their rehab in a more timely fashion. From their initial consultation, we get them started on all aspects of their therapy," says Cindy Holmes, one of two certified hand specialists at the clinic.
"There's less duplication and better overall co-ordination of treatment."
Certified hand therapists are occupational or physical therapists who have extensive additional training in the care of upper extremity conditions and injuries.
Each therapist in the clinic sees eight to 12 patients each day, providing therapies for hand and wrist conditions ranging from trauma to genetic disorders and nerve injuries. In 2013, the clinic had more than 9,000 patient visits.
"We can address the full scope of a patient's rehab needs," says Holmes. "In one day, I can see patients recovering from carpal tunnel syndrome, a wrist fracture, arthritis, and a crush injury. We can fabricate splints to protect and improve movement, perform manual therapy, provide adaptive aids for home and work, and teach exercises and stretches.
"We still have the resources of our entire team of therapists to pull from, but giving the patients one point of contact eliminates confusion and makes their therapy and their visits more efficient."