Art a balm as well as an emotional outlet for brain injury survivor
Story by Kerri Robins, photos by Grant Olson and Emir Poelzer
EDMONTON — Donations come in all shapes and sizes.
A gift could be money, time or a work of art that touches the heart.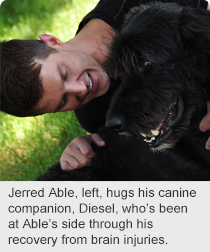 Staff at the Royal Alexandra Hospital's intensive care unit (ICU) in Edmonton can attest to that and feel a tug on their heart-strings every time they look at the donated art displayed on the walls of their unit.
But a former patient says painting — and donating his art to the hospital — has helped him heal.
"I want to tell a story through my art," says brain injury survivor and artist Jerred Able.
"People always ask how I feel about what happened and it's easier for me to express my emotions visually."
A painter of watercolour abstracts, Able created some pieces after suffering a traumatic brain injury and later donated the art to the Royal Alexandra Hospital Foundation.
"Painting the hurt, anger, hate and loneliness is a way for me to express my feelings," says Able. "Hopefully, people learn there are ways to deal with what hurts in their lives — art makes people think."
Able's art graces the walls of the ICU, where staff can enjoy them.
"Staff don't see patients after their stay in ICU, but seeing Jerred's paintings shows the staff there are positive outcomes from the work they do," says patient care manager Donalda Dyjur.
"Sometimes we show Jerred's art to families with loved ones who are critically ill in the ICU; it helps to explain that even though we don't know the outcome of some injuries, and the recovery is long, there is hope. Jerred's art is proof of that."
It was another normal day for Able on Oct. 29, 2008, beginning with a quick run before work. However, while crossing a pedestrian walk that morning, Able was struck by a car and rushed to the hospital with life-threatening injuries.
Formerly a manager of technical drafting with Stantec in Edmonton, 36-year-old Able can no longer work due to the brain injuries from the accident. But helping him recover is his faithful canine companion — three-year-old Diesel — a 55-kilogram Bouvier des Flandres.
"Diesel is a huge part of my life and helped in my recovery by just being by my side every step of the way," says Able.
"I nearly died, but I'm still here. I want to help people learn and understand what brain injuries are and how we are affected.
"I had to reteach myself everything, including how to paint. Art is different for me now, but it's helped me through my recovery and through some very depressing times."
Sharlene Rutherford, Vice President, Royal Alexandra Hospital Foundation, says she's genuinely touched by Able's art.
"Jerred has given us a truly inspiring gift to share with others experiencing pain and suffering," says Rutherford. "We're thankful to be part of his life and to receive this tangible legacy from such a remarkable young man."
Able is reflective when talking about his accident and injury.
"Remember who you were and, even though you're different now, take that and improve on it. We're all dealt the same cards at birth — we just get different colours to work with."
For information, visit www.royalalex.org.