Versatile incubators donated to Medicine Hat hospital
Story by Kerri Robins; photo by Heather Bach
The neonatal intensive care unit at the Medicine Hat Regional Hospital will soon be home to two new Giraffe OmniBeds – state-of-the-art infant incubators that provide an improved life-sustaining environment for critically ill newborns.
Joining one Giraffe OmniBed already in use at the hospital, the OmniBeds are primarily used for premature babies and newborns.
Kathy Collier, patient care manager for neonatal intensive care unit/pediatrics at the hospital, is pleased with the new beds.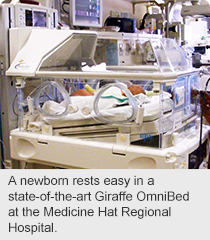 "The beds are great because they can be used as an open bed unit for our critically ill and unstable babies, and then easily converted to a closed bed unit to provide a quiet healing environment for these little babies."
Thanks to a $120,000 donation from Cenovus Energy Inc. to the Medicine Hat & District Health Foundation, the technology gives newborns a microenvironment that helps maintain body temperature and regulate oxygen levels.
The bed is designed with a 360-degree rotating mattress that slides out and allows caregivers to perform critical tests while moving their tiny patients as little as possible.
And, with large, drop-down removable doors, the bed allows quick and easy patient access from both sides.
"The best thing about these beds is that mom and dad can sit right beside their little one and maintain close contact to provide the care and nurturing baby needs to be healthy," says Collier.
With the ability to convert between an incubator and open bed in seconds, heat loss is minimized.
The bed also features an in-bed scale, crucial in checking baby's weight to ensure they are growing and thriving. As well, the base can be raised or lowered to ensure the bed is at a comfortable working height.
Michael Dolan, Chair of the Medicine Hat & District Health Foundation, is happy with the technology these beds provide.
"We are sincerely grateful to our friends at Cenovus," says Dolan. "This amazing gift provides the equipment and new technology that our youngest patients need and promotes a safe and healing environment."
For more information, visit www.inyourcommunity.ca.