Automated external defibrillators a key link in 'Chain of Survival'
Story by Steve Rennick
Ayaz Kara knows the value of automated external defibrillators (AEDs) in public areas.
When the 53-year-old Calgary businessman went into cardiac arrest at the Mount Royal University Recreation Centre last month, staff quickly located the centre's AED to restart the man's heart before Alberta Health Services-Emergency Medical Services (EMS) arrived.
It saved his life.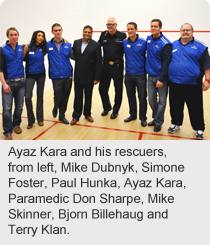 "You never think that an AED is going to be used on you – that it's going to be somebody else," Kara says. "I'm living proof that AEDs really work, especially if they are in places where you can access them right away. Without an AED, I wouldn't be here today."
AEDs are small, portable, electronic devices that can help shock a heart in cardiac arrest back into normal rhythm. It uses simple, automated voice commands to direct the user as to when and how to deliver the treatment.
The AED used to save Kara's life is registered with the Public Access to Defibrillation (PAD) Program, operated by Alberta Health Services-Emergency Medical Services.
The program monitors the location and maintenance history of all registered AEDs in the province. The program also provides EMS dispatchers with information regarding the location of those AEDs and, in turn, prompts the caller to retrieve the device for use.
There are more than 1,400 devices – including the five at Mount Royal University – active in the provincial registry.
After finding Kara not breathing on a locker-room bench, MRU Recreation Centre supervisor Bjorn Billehaug called 911 and retrieved the AED while other rec centre staff members started administering CPR. Two shocks from the AED and many chest compressions later, Kara started breathing again.
EMS soon arrived to transport Kara to hospital.
Billehaug says it was truly a team effort.
"I think about if I had had to try doing that alone, it would have been really challenging," Billehaug says. "I'm really happy for [Kara's] family and all the moments they'll get to have because of what we were able to do."
AHS EMS public education officer Stuart Brideaux says the response to Kara's cardiac arrest is an example of the EMS system working exactly the way it is supposed to work.
"It's what we call in EMS the 'Chain of Survival.' Initiating CPR, calling 911 and applying an AED are the first links of that chain," Brideaux says.
"All of those things happen before the start of EMS care and outside the hospital environment. They set up the rest of the process which can result in the saving of a person's life. In Mr. Kara's case, that's exactly what happened."