Staff partner with schools and community groups across northern Alberta
Story and photo by Lisa Peters
Alberta Health Services (AHS) asked school-age residents their opinions about smoking and heard some powerful and heartfelt messages about why people shouldn't smoke.
"My Mom and Dad smoke tobacco. I'm really scared that they might die from cancer," wrote one student. "Fifty per cent of smokers die from tobacco. I don't want to smoke because of the chemicals that are in it. Now ask yourself; do you want to live your life with your family or be really sick and die from cancer?"
This was part of National Non-Smoking Week, which ran from Jan. 19-25, to help raise awareness about the health effects of tobacco and provide support to people who are thinking about quitting or reducing their tobacco use.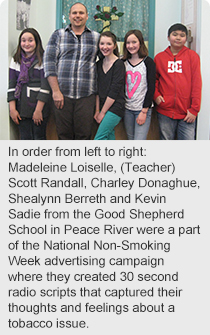 Other communities across the AHS North Zone also marked the awareness week with a variety of activities. This year's theme for National Non-Smoking Week was supporting women in the childbearing years, and AHS staff expanded their efforts wherever they could to reach out to as many people as possible.
AHS Addiction Services in Peace River invited elementary and junior high students to join an advertising campaign where they created 30 second radio scripts that captured their thoughts and feelings about a tobacco issue. Several schools from Peace River, Manning and Dixonville participated. Students shared their campaign with their school and/or community through local radio and newspaper advertising, school PA announcements, displays, powerpoint presentations, and videos.
"Tobacco Chemicals/ingredients: Tar; poisons; chemicals; nicotine; nail polish remover; gas, and bleach. Did you know that cigarettes have all these dangerous things in them? Stay healthy! Don't smoke! Thank you for listening," was another message from a student.
"Students wrote and recorded radio ads expressing why they don't think people should smoke or use tobacco," says Karissa Schuler, Addiction Counsellor in Peace River.
"The schools were very supportive with this and the students were creative. They have a lot of great messages."
Roxine Weaver, addictions counselor in High Prairie, also worked with several local schools.
"It's great to work with children at an early age and get them thinking about the dangers of tobacco use," says Weaver.
Along with working in the schools in High Prairie, Weaver set up display boards at the Health Center, the Addiction and Mental Health office and the library.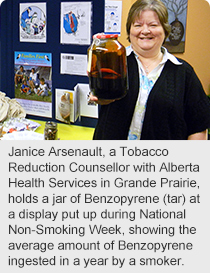 Another student wrote: "Many people are addicted to smoking. But, not many people know of the benefits that come after you stop! If you stop smoking you will: Breathe easier; won't have bad breath; have less chance of getting cancer; your lungs won't be attacked; you won't have to worry about your addiction nagging at you all of the time, and you don't have to spend $15 for a pack of cigarettes. Think before you start."
Janice Arsenault, a Tobacco Reduction Counsellor in Grande Prairie, worked closely with several different local organizations and businesses.
"We hosted a small contest with the local Pregnant and Parent Teens program," says Arsenault. "Participants shared how smoking, never smoking, stopping smoking or cutting down has affected them and their babies. It was well received and I saw a lot of positive messages through it."
Information tables were also set up around the city, including at AHS facilities such as the mental health and public health centre, different pharmacies and doctor offices, the Primary Care Network, and the college. Copies of the book "Barb's Miracle: How Barb Tarbox Transformed Her Deadly Cancer into a Lifesaving Crusade" were drawn as door prizes for anyone who stopped by a booth, completed a short quiz, and entered their name in a draw.
"Most women (85 per cent) enjoy a tobacco free pregnancy," says Arsenault. "We want to encourage those who are making safe, healthy and responsible choices while raising awareness about the dangers of tobacco use. We really want reinforce positive messaging wherever possible."
Mona Johnson, Area Supervisor for Slake Lake Addiction Services, also worked to help educate children and youth about the dangers of tobacco use.
"AHS Addictions Services in Slave Lake worked with four local schools to host interactive activities throughout the lunch hour and share information regarding the impacts of tobacco use," says Johnson. It's important that we educate youth about tobacco use and hopefully prevent them from ever using it."
National Non-Smoking Week has been observed for the past 30 years to raise awareness about the health effects of tobacco, and provide resources and education to people who are thinking about quitting or reducing their tobacco use.
For more information about National Non-Smoking Week and resources that are available to help Albertans quit tobacco, visit www.AlbertaQuits.ca .