Skier takes Calgary teen's specially designed helmet to Sochi
Story by Janet Mezzarobba; Photo by Paul Rotzinger
Gillian O'Blenes has given one of Canada's Olympic hopefuls some extra inspiration as he heads to Sochi for the 2014 Winter Olympic Games.
Calgary slalom skier Brad Spence will go for gold wearing a race helmet that features a Russian-style design, hand-drawn by the 17-year-old Alberta Children's Hospital cancer patient.
O'Blenes presented Spence, 29, with the custom red, black, white and gold helmet on Feb. 3 after he had inspired her during a series of hospital visits with his own story of courage and perseverance.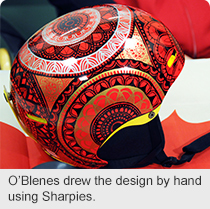 The 2010 Olympian was told he may never ski again after suffering a career-threatening injury just prior to the 2006 Olympic Winter Games. He encouraged O'Blenes – a promising dancer currently undergoing chemotherapy for a form of cancer called osteosarcoma – to pursue her passion for art, which led to the Calgary teen creating a helmet design for Spence to wear at the Games.
Over the last couple of months, O'Blenes designed the helmet using Sharpie markers and a technique called Zen doodling, taught to her by an art therapist at Alberta Children's Hospital.
During one of his visits, Spence was taken by her creative efforts.
"I noticed her doodling on a pad and it was absolutely stunning. My first thought was that it almost looks like a Russian doll. Just before Christmas, I went in and took her a helmet and asked her if she would draw a design for me," he says.
"When I first saw the design, it just floored me."
O'Blenes says she enjoyed putting her creativity and drawing skills to the test.
"It's going to be really cool to see the helmet when I watch the Games on television and be able to say 'I was a part of that,' " she says. "Doing the design was very therapeutic. It takes your mind off the situation you are in and gets you to focus on something positive."
Spence first heard about O'Blenes's story through a friend who works in the oncology unit at the Calgary hospital.
"She said one of her patients was having bones taken out of her leg and that she might not be able to dance at a high level again," says Spence. "She thought she might get something out of hearing my story of coming back from injury."
O'Blenes says Spence's visits gave her a different perspective on her own challenges.
"The first time Brad visited was right after my leg surgery. He talked about being on crutches for six months and now he's skiing in the Olympics. It was really cool to hear that – it was inspiring," she says.
Spence says the feeling is mutual.
"Seeing what she's done has been a huge inspiration to me, and I am so honoured to have this opportunity," he says.
Spence will compete in men's slalom on Feb. 22.