Northern Addiction Centre helps construct a path to recovery from Gambling Addiction
Story and Photo by Mark Evans
Clint Rathburn had a gun under his seat, a suicide note written and had picked the time and place he'd take his life to escape his gambling addiction.
He made one last stop at a community recovery group meeting in his hometown of Grande Prairie. That night, the meeting hit home and offered a glimpse of hope — and likely saved his live. He decided to try and face his addictions and arrived at Northern Addictions Centre (NAC) looking to be admitted to the detoxification program for alcohol.
While filling out the admission form, the counsellor suggested to Rathburn that while he was an alcoholic, he might want to be admitted into the NAC's 20-day residential Gambling Treatment Program.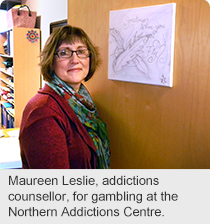 Gambling for the now 48-year-old Rathburn started out six years earlier as a recreational activity — something he'd do on a Saturday with a few hundred dollars. It slowly became a twice weekly, then daily compulsion that was costing up to $1,000 per day.
He'd been closing the casino nightly and going to work the next day at 6 a.m. on a couple of hours of sleep. A few hours later he'd be in front of the casino, waiting for the doors to open again at 9:30 a.m.
"It became something I had to do and the guilt and shame of going to the casino brought back the drinking," says Rathburn, who had previous struggles with alcohol addiction.
Over the six years, he continued to struggle with gambling and went into detox several times for alcohol, each time taking longer and getting more difficult.
In the months before the suicidal thoughts started, his wife left him, he pushed friends and family away and he lost his job.
"I was in the deepest, darkest hole possible," says Rathburn. "I knew I couldn't go down that path anymore. I needed a place to start over and that's what this is," he says.
"The Alberta Health Services 20-day residential Problem Gambling Program uses a combination of group counselling sessions and workshops to set clients up to go back into their community and start the hard work of recovery," explains Maureen Leslie, addictions counsellor for gambling at the Northern Addictions Centre.
The Problem Gambling Program includes daily interactive workshops, therapeutic group counselling, leisure development and participation in community-based 12-step groups.
Workshops include information and discussion in the following areas: Review of definitions of gaming and gambling, definition of compulsive gambling, central experiences of gambling, continuum of use, signs of problem gambling, development/progression of problem gambling, and models of gambling.
Treatment focuses on the links between thoughts, feelings, and behaviours and the impact they have on gambling urges and recovery; strategies to break through behavioural chains; and personal control by regulating thoughts.
Also included is a review of the factors that may contribute to problem gambling, risks of cross addiction, knowledge of relapse warning signs, an awareness of triggers, a plan to manage urges and cravings, and an examination of the definitions and reactions to guilt and shame associated with gambling.
"For many problem gamblers the mind is a racing mind — it thinks fast," says Leslie.
"The program uses that mind for positive and gets people to slow their minds down and think through their feelings and beliefs, and see the choices they have available to them. We really want to use the mind because it is powerful."
The program connects participants with provincial services, such as the Problem Gambling Resource Network, by videoconference, as well as the community-based 12-step program.
"Problem gambling is a devastating addiction that has the ability to negatively affect all areas of a person's life," says Leslie.
"The people who have gone through the treatment program, they are so very fortunate to have the opportunity to do that — to have someone to help them through that process," says Robin H, a member of the Gamblers Anonymous (GA) program in Grande Prairie.
Robin has attended GA meetings since 1997 when, after looking in the mirror one day, she didn't recognize who she'd become because of all the lies she told to maintain her VLT addiction.
While she didn't use a treatment program, she says, anything that helps an addict understand their triggers and starts them on the path to recovery is good.
"The more they can learn about the addiction the better chances they have to recover," she said.
After 16 years of attending meetings to stay clean she says her life is now fulfilling and she no longer feels she needs to self-destruct.
"I have peace, I have serenity, I think a whole lot more of myself than back then," she says.
Just months into his recovery, Rathburn now regularly attends GA meeting and shares a similar feeling. "My mind isn't telling me I'm a failure now," he says.
He says he's found hope and now knows he'll work at his addictions for the rest of his life.
"It's remarkable how I've changed," says Rathburn. "I never want anyone to be where I was. I'm one of the lucky ones. I'm still here to tell my story."
For more information on the Gambling Program at The Northern Addiction Centre in Grande Prairie please call Maureen, Gambling Program Counsellor at 780-538-6353 or Admissions at 780-538-6350, and ask for Ida.