Physician assistant project brings help to physicians and patients
Story and photo by Heather Kipling
Being first isn't something new for Katrina Bruckschwaiger.
Among the first clinician trained Physician Assistants graduates in Canada, Bruckschwaiger is now one of the first in Alberta. She is also the first Physician Assistant to begin making the rounds at Red Deer Regional Hospital Centre (RDRHC).
"I have always been interested in working in medicine," says Bruckschwaiger, who has worked in surgical specialties in Manitoba and B.C. prior to coming to Alberta to take part in a two-year demonstration project that integrates Physician Assistants into facilities across the province.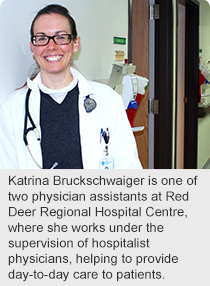 Bruckschwaiger will be one of two physicians assistants at RDRHC, where they will work under the supervision of hospitalist physicians. The hospitalist program consists of a team of physicians – and the physician assistants. They oversee the day-to-day care of patients without a family doctor.
The physicians rotate shifts every week, while the physician assistants continue to work with their patients.
"I stay on with the same patients every week which helps with the continuity of care," says Bruckschwaiger, who is currently working with inpatients at the hospital. "I love it here," she adds. "Everyone I've worked with so far has been very welcoming."
The physician assistant project will bring about a dozen Physician Assistants onboard in Alberta Health Services facilities, in a variety of settings in all the Zones. The project aims to improve health care access, safety and quality.
The impact of this new position on access, wait times, quality of care and patient and provider satisfaction will be monitored and evaluated over the duration of the demonstration project.
"We are very happy to be participating in this project," says Dr. Evan Lundall, Central Zone Medical Director. "As the Central Zone continues to grow, residents in our communities are going to need access to more care and more forms of care. Physician Assistants can not only help us address gaps in clinical coverage but also help increase the capacity of our current workforce."
Practicing under the direction of a physician to extend patient care services, physician assistants are trained to provide a broad range of medical services. Their work with patients can include conducting patient interviews, histories and physical examinations, diagnosing and treating illnesses, performing selected diagnostic and therapeutic interventions or procedures, and counselling patients on preventative health care.
Allan Sinclair, Executive Director in Red Deer, is excited about Bruckschwaiger's arrival and the integration of physician assistants into Alberta healthcare.
"We are very keen to see the Physician Assistant role interact with our care teams in the pilot," says Sinclair. "The Physician Assistant has a flexible scope of practice while working under a physician at RDRHC, and we feel this flexibility and skill will translate into greater access to the care for patients".
About 350 Physician Assistants practice in Canada, more than half in Ontario.
For more information about the AHS project or potential career opportunities as a physician assistant with AHS, please contact medicalstaff.info@albertahealthservices.ca.