More Claresholm patients treated closer to home
Story by Kerri Robins; photo by Tara Bishoff
CLARESHOLM — A new diagnostic tool in the emergency department at Claresholm General Hospital is helping clinicians to see things more clearly.
The HD Portable Ultrasound, a device which employs sound waves to display images from inside the body, helps health-care staff to 'see' organs such as the kidneys, liver and spleen. When applied to the pelvis, it's also a great way to check up on the health of the unborn.
"Our portable ultrasound has proven very helpful in emergency situations," says Dr. Jeffrey Jones, an emergency department physician here.
"It is a great diagnostic tool. We can see the source of an internal bleed, for example, so it really takes a lot of guesswork out of a diagnosis for us.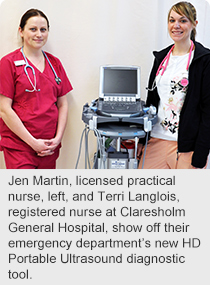 Probably the most satisfying use is the ability to check on a pregnancy and, in many cases, relieve mom's anxiety when she can see onscreen that her baby is doing fine."
The $39,500 device was bought in November 2012 through the community support and fundraising of the Claresholm & District Health Foundation. It's also doing its part to keep more patients closer to home, in their community.
"The ultrasound is a valuable tool in ruling out a multitude of conditions, some of which are life-threatening — and that's one of the biggest determinants in whether we need to transfer a patient to larger hospitals in Calgary or Lethbridge," adds Jones.
"The fact that we can use the ultrasound to diagnose a number of conditions — for example, an abdominal aortic aneurysm, which is a ballooning of the large artery in the abdomen — allows us to treat patients immediately without risking travel in many cases.
"Aneurysms occur more commonly in people over 50 and, given our community has a large senior population, this tool is indispensable."
Art Scott, Chair of the Claresholm & District Health Foundation, is pleased with the community support that helped to purchase this critical piece of equipment.
"Our community is exceptional in stepping up to the plate, not only donating funds for this much-needed equipment, but with their time and effort as well," says Scott.
"I'm proud of all our donors, both private and business, for caring for their neighbours in our community."
For more information, visit www.claresholmanddistricthealthfoundation.com.