New high-tech HandiBus gets Canmore seniors out and about
Story by Kerri Robins; Photo courtesy Richard Brown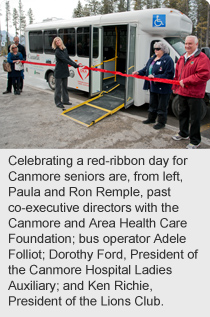 Canmore seniors are enjoying a new state-of-the-art ride now that a new HandiBus is on the road.
The new bus replaces an older vehicle and features some advanced technology that's providing seniors a safer, more comfortable ride.
"I really enjoy the bus," says Canmore senior Anne Marie McTrowe. "It picks me up to attend the Seniors' Adult Day Support Group – without it, I couldn't possibly attend."
Transportation can be an obstacle for seniors due to any number of physical or cognitive limitations. For example, limited mobility or dementia hampers their ability to drive, leaving them incapable of operating a motor vehicle.
But there is also the barrier of unpredictable weather that is common in Alberta, making it difficult for seniors to get out if they don't have proper transportation.
The convenience and safety of door-to-door service for seniors from their residence or long-term care unit to programs and recreational field trips really goes a long way to maintaining freedom and independence.
Nina Livesley, Care Manager, Operating Room, Emergency Room and Long Term Care at the Canmore General Hospital, is happy with the benefits the HandiBus offers her patients.
"The new bus accommodates more walkers and wheelchairs," says Livesley. "That's great because it allows so much more opportunity for our residents in long-term care to participate in program outings to Kananaskis, Morley, Canmore and Banff."
With access to transportation, seniors can take part in a variety of therapeutic programs at the hospital, such as the seniors' adult day support group McTrowe attends. Approximately 25 seniors ride the bus in any given week.
Seniors also have a variety of trip options, including day trips to churches, shopping and even a visit to the Calgary Zoo.
And these wheels take advantage of the latest technology. There is a colour-coded system the driver can use to ensure wheelchairs are locked into place.
In addition, the bus has a feature that eliminates the need for seniors to step onto the bus. Seniors walk onto a ramp that sits flush to the ground and, once the rider is on the ramp, it gradually rises to the level of the floor of the bus.
The new HandiBus was purchased by the Canmore and Area Health Care Foundation for the Canmore General Hospital in November 2012 through donations of $131,000.
Myrle Christensen, Executive Director of the Canmore and Area Health Care Foundation, couldn't be more pleased with the new bus.
"It really is wonderful to be able to accommodate our seniors from the hospital and the community and get them out and about," says Christensen. "It's the community support and generous donations that make these kinds of things happen."
For more information, please visit www.canmorehealthfoundation.com.