Story by Kerri Robins; Photo courtesy of Ryan Collyer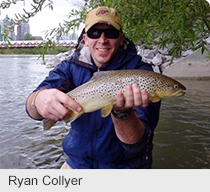 From helping with drug rehabilitation in Africa to organizing Ambulance Chasers closer to home in Calgary, Ryan Collyer is a volunteer who really gets around.
"Volunteering helps me connect with my community and provides great community spirit and camaraderie," says Collyer, Assistant Supervisor in Calgary Metro Operations for Alberta Health Services (AHS).
"I think volunteering sets a good example of just one of the ways we can focus on what's really important in life."
For more than five years now, the 41-year-old has been volunteering with the Emergency Medical Services (EMS) Foundation in Calgary to help organize its biggest annual event, the Ambulance Chasers Charity Run, held every October in the city.
From creating race maps, communicating race details to participants and organizing all the volunteers, he certainly stays connected to his community.
"It's fun meeting so many like-minded people, and while I don't get to participate in the race itself, I really feel part of it."
The married father of two boys, ages 6 and 9, Collyer has also volunteered at a drug rehabilitation centre in Sierra Leone, Africa. As well, he got involved in building a school as part of the Missions Direct program in the country.
"Africa was an amazing experience; I'm fortunate to have been part of some really good work out there," adds Collyer. "We tend to get wrapped up in our stuff and can lose sight of the real impact we can have when we help other people."
Collyer readily admits that volunteering can be tough at times, especially with a young family that needs so much of his time, too.
"Volunteering is certainly time-consuming, but my family is also involved — and it's really a great way to spend precious time together, doing something worthwhile," says Collyer. "The biggest thing for me is that putting your time out for someone else's benefit is important and should be ongoing."
Be a Foundation Champion and Make An Impact – Your Gift Matters!
Please visit Emergency Medical Services (EMS) Foundation in Calgary for more information. To make a donation to your local foundation or inquire about volunteer opportunities please visit Foundations & Health Trusts.