Cross Cancer volunteers win 2014 Prime Minister's award
Story by Gregory Kennedy; Photos by Dale MacMillan
The kindness and compassion shown by Edmonton's Cross Cancer Institute Volunteer Association has earned the group the 2014 Prime Minister's Volunteer Award as Community Leader on the Prairies.
Now 350 strong, this group's dedication to improving the care and comfort of cancer patients and their families at this Alberta Health Services (AHS) facility encompasses
20 programs including transportation, wig service, clinic support, way-finding, new patient orientation, inpatient visiting and a refreshment cart.
The association also has three business operations, including a gift shop staffed by volunteers who have raised more than $4 million to support services, buy medical equipment and fund special projects that enhance the patient experience.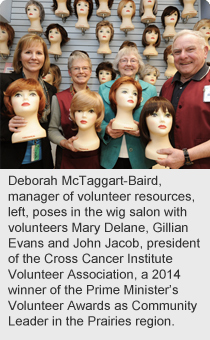 What began in 1963 with 24 Edmontonians who shared coffee, rides, stories and hugs with patients has now led straight to Toronto where Prime Minister Stephen Harper presented the award to Association board members John Jacob, president, and Mary Delane, treasurer, in a Feb. 27 ceremony.
"I think it's fantastic," says Jacob. "Our volunteers are just overwhelmed at receiving this award from the Prime Minister."
"Many moments every day touch your heart," adds Delane, reflecting on her seven years of service and the personal rewards of giving.
"Recently, a woman who had just finished her last appointment here at the Cross came into the information centre. She didn't have to come back for any more treatments. She came in. We talked about it. And then she gave me the biggest hug, and said: 'Without you volunteers, I could never have gotten through this.' Before long, we were both weeping. It was a wonderful moment."
The association has donated 1.3 million hours of service over the past half century.
"The Volunteer Resources staff team at CCI are privileged to work with such a skilled and dynamic group of volunteers," says Deborah McTaggart-Baird, Manager of Volunteer Resources. "The synergy that occurs because our volunteers and staff share a vision and passion for making a difference in the journey of cancer patients and their families is impressive. The little things really do make a world of difference."
The Alberta Cancer Foundation, the official charity for CancerControl Alberta that includes the Cross Cancer Institute, is "very supportive of the work of the CCI Volunteer Association," says Jane Weller, the Foundation's Director of Development at the Cross.
"There are more than 300,000 patient visits at our cancer centre annually, and each life is touched by a volunteer during their visits."
"During my 25-year tenure with the Alberta Cancer Foundation, I've witnessed unprecedented growth and support of our cause — with donations soaring from $500,000 in 1985 to a record $40 million in 2012," adds Weller.
"Increasingly, donors tell us the care provided by our volunteers means every bit as much to them as the world-class cancer care they are so fortunate to receive from the Cross Cancer Institute staff."
Former breast cancer patient Gillian Evans credits the volunteers she met during her treatment five years ago with inspiring her to step forward today; she's currently in orientation to become a Cross volunteer.
"They're very caring. They're positive. They're encouraging," says the 75-year-old.
"They're always helpful. They made a world of difference to my experience as a patient. That chapter's finished. I don't feel like I'm a patient any more. Now I feel I'm ready to be a helper."
One milestone accomplishment that marks the Association's 50th anniversary is the new Healing Garden, a $700,000 outdoor retreat where patients and loved ones can recharge and refresh, which opened last fall.
The wheelchair-accessible space, located on the west side of the Alberta Health Services (AHS) facility, includes two plaza areas where people can sit surrounded by perennial flowers, grasses, shrubs and trees.
The national volunteer awards were created for two main reasons: first, to recognize exceptional contributions that individual volunteers, not-for-profit organizations and local businesses make to improve the well-being of families and their communities; and second, to highlight the best practices in community leadership that these outstanding volunteers have developed.
David Dyer, Executive Director (Acting) of the Cross Cancer Institute, says: "The Volunteer Association has been an integral part of the Cross Cancer Institute for 50 years and we are very excited and proud to see them honoured for all the work they put into helping our patients.
"People receiving treatment for cancer are under a tremendous amount of stress and anxiety — and our volunteers are dedicated to providing comfort to the patients and families we serve. Health care practitioners are experts in the field of treating cancer, but there is no other group who are as dedicated to improving patient experience as our volunteers are."
Weller adds: "It's been said that people may forget what you say, they may forget what you do — but they will never forget the way you made them feel. We owe a debt of gratitude to the volunteers, for they not only make an impact on patient care, but their good deeds leave a lasting warm impression in people's hearts that is never forgotten."