A helping hand for physicians
Story and Photo by Kirsten Goruk
A new project in Beaverlodge is helping to reduce wait times for patients while assisting physicians with their workloads.
Tahseen Samdani is part of Alberta Health Services' (AHS) Physician Assistant Demonstration Project: a two-year program aimed at integrating Physician Assistants (PAs) into health care teams. PAs are academically prepared and highly skilled health care professionals who extend physician services.
Samdani has a Bachelor of Science in physician assistant from D'Youville College in Buffalo, New York. He's worked with a neurosurgeon in Wisconsin and spent time in Michigan working in internal medicine, urgent care and primary care. Then AHS gave him a reason to move back to Canada.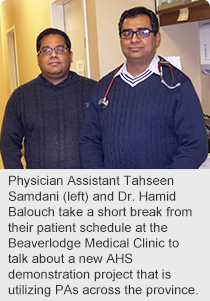 "They called me and said they were hiring PAs over here and I'm originally from Ontario, so I thought it was a good opportunity to come back over here and work for our own country," Samdani says.
His placement started in January where he works with a series of supervising physicians at the Beaverlodge Municipal Hospital and the Medical Clinic to extend patient care services by providing general medical care to patients with a wide variety of conditions.
"I'm basically seeing all sorts of patients in the clinic, mostly hypertension, diabetes or high cholesterol patients and managing those. I also give injections for things such as rheumatoid arthritis or B12, and handle upper or lower respiratory infections such as pneumonia," Samdani says.
"It's very much the same thing in the ER, but that's obviously more fast-tracked than the clinic."
PAs are trained to provide a broad range of medical services, including conducting patient interviews, histories and physical examinations; diagnosing and treating illnesses; performing selected diagnostic and therapeutic interventions or procedures; and counseling patients on preventative health care.
Dr. Hamid Balouch is one of the physicians overseeing Samdani during his two-year placement in the northern Alberta town.
"We discuss the management of all the patients seen by a PA before discharging patients from our office. I have noted that he has good working knowledge of medicine and he is equipped with skills of professional care and bedside manners," says Dr. Balouch.
"We are fortunate to be part of this project, having him here with us, utilizing his experience and knowledge for the benefit of our patient population. He is quite capable of running a low-risk clinic under supervision."
In the short time since Samdani's arrival, both the medical staff and patients are already noticing an improvement. Balouch points out that one of the biggest advantages of having a PA on staff is a reduction in wait times for patients.
"That's a huge benefit. It's like adding to the workforce, which is beneficial in terms of achieving capability to serve more volume of patients in a given time," he says.
"We're noticing that patients are coming in and saying that they don't have to wait as long and rightfully so. This is a very busy clinic and staff are always on the go. I'm able to help out and save the doctors some time," Samdani adds.
The project launched in the fall of 2013 and about a dozen physician assistants are being integrated in AHS facilities across the province. It's something that Balouch and Samdani hope to see expanded in the future.
"It's a good addition that Alberta Health Services is providing. Hopefully down the line the same service can be added to other areas with higher volumes. I think it will be very helpful to reduce waiting times," Balouch says.