Breastfeeding Clinic boosts newborn's nutrition
Story by Kerri Robins; photo by Tara Richards
FORT McMURRAY — As Tara Richard watched her three-day-old daughter Hailee having trouble nursing, accompanied by excruciating pain while breastfeeding, she knew something was wrong.
But today, thanks to the Breastfeeding Clinic — part of Alberta Health Services' (AHS) The Baby Friendly Initiative — Richard, 26, has benefited from some expert advice.
Richard's relief came three days after Hailee's birth, on June 29, 2013, with a home visit from Cyndi Hudson, a certified lactation consultant with Public Health here.
"I was so thankful Cyndi came out for a home visit because nursing Hailee was painful and she was biting me, obviously trying to get more milk," says Richard.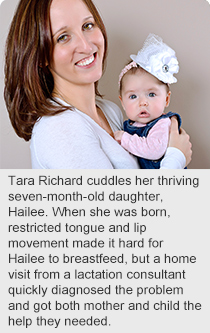 Hudson immediately determined that little Hailee was tongue-tied, and both upper and lower lip-tied.
Tongue, upper and lower lip ties in newborns means the frenulum — the band of tissue that connects the tongue to the floor of the mouth, and the lips to the gums — is too short and tight, which restricts tongue movement.
"When babies can't move their tongue or lips properly, they have difficulty and in some cases can't suck enough milk from mom," says Hudson, "which eventually causes pain and nipple damage."
Problems that arise from this condition include: poor weight gain, because baby isn't getting enough or any milk; and poor 'latch', because baby can't attach to the breast properly to get adequate milk and nutrition.
Funded by Northern Lights Health Foundation's annual radiothon, along with numerous private donations, the Breastfeeding Clinic opened its doors in September 2012. Since then, word of mouth has brought the news to new moms.
The Breastfeeding Clinic — currently available in some parts of AHS' North Zone only — supports moms and babies with a thorough assessment of both, through well-baby clinics, on-call nurse availability during the day, and education sessions on breastfeeding and nutrition, including useful discussion on what constitutes normal infant behaviour.
Says a grateful Richard: "I really wanted to continue breastfeeding Hailee, so it was a blessing that Cyndi was able to help us figure out the problem. Stopping Hailee's breastfeeding was not an option I wanted to consider."
As well, the day after Hudson's home visit, Hailee got an appointment with an orthodontist, who employed a laser to fix the baby's tissue bands to allow greater lip and tongue movement.
Susanne Chaffey, Executive Director for the Northern Lights Health Foundation, says she's pleased with the clinic and its role in the community.
"I have a child of my own and know how important it is to provide the best nutrition we can for our little ones," she says.
"All new moms need a helping hand now and then. We are so fortunate for all the community donations that helped make this clinic available to moms."
For information about the Breastfeeding Clinic, or advice about your child, please call Public Health at 780-791-6247.