BBT gets ready to launch
Story by Kirsten Goruk
A new program in the Wood Buffalo area aims to give parents the tools to help their kids cope with life's speed bumps.
Alberta Health Services (AHS) staff will soon be leading parents through the Bounce Back and Thrive Resiliency Skills Training program. Originally piloted in Ontario, the program is being offered thanks to a generous donation from the Royal Bank of Canada to the Northern Lights Health Foundation (NLHF).
"We know that kids have stress and I sometimes think we forget that. It might, in our adult minds, seem insignificant or very simple, but we do know that children have stress," says Jennifer Splaine, AHS area 10 supervisor with Public Health.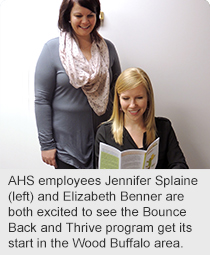 The Bounce Back and Thrive program aims to support parents with children ages 8 and under who might be at risk of developing mental health issues later on in life. It's the first time this program will be offered in Alberta.
"I think that children don't always have the coping mechanisms or the skills at their fingertips to be able to manage the challenges and stress that come at them in a variety of ways. This program helps remind parents that children do have stresses, that children learn how to respond to stress by watching their parents and it teaches parents how to be a role model and support their children," Splaine says.
The 10-week program will be free to parents and involves sharing information, hands-on activities, videos as well as discussion and skill practice. It is divided into two parts, one that focuses on self-regulation and the other on how parents can help their kids build resiliency.
"Anyone can benefit from the program because it's about learning emotional regulation. It's been piloted with some families that have higher risk factors such as, for example, single parenting or lower incomes, but all parents are welcome to sign up," says Elizabeth Benner, child development educator II, with the AHS Early Intervention Program at the Northern Lights Regional Health Centre.
"Parents will learn practical skills to identify their emotions and gain positive coping skills for stress and then be able to identify emotions in their children and help their children learn positive ways to cope with stress and regulate their own emotions," Benner says.
Jerilynn Daniels, senior manager of Community Investments & Marketing with RBC explains that Bounce Back and Thrive fits perfectly with the RBC Children's Mental Health Project.
"We're really looking at programs that are doing early intervention and education and so the Bounce Back and Thrive program is a great resiliency program," Daniels says.
RBC's donation of $26,000 to the NLHF formally took place on Feb. 11, with most of the funds going towards training AHS staff to lead Bounce Back and Thrive.
According to Manjit Athwal, major gifts officer with the NLHF, RBC has a long history with the Foundation and this recent donation is another example of one of their many partnerships.
"RBC's been a supporter of the Northern Lights Health Foundation and healthcare in the Wood Buffalo region for many years," she says.
"They are supportive of mental health issues and want to be proactive in helping children and families. It's been great to work together to have a healthier region."
While staff prepare the rest of the details for the program's roll out, which will start in Fort McMurray, Benner is excited about the prospect of partnering with other groups and agencies, including the school boards.
"I think it will be great because there will be more group programs in Wood Buffalo that focus on mental health specific to young children and their families," she says.
Planning, including dates and locations of the official launch of the program is underway. For more information about the Bounce Back and Thrive program, call Elizabeth Benner at 780-791-6244.