Adjusting medication could improve academic potential
Story by Greg Harris; Photo and Video by Paul Rotzinger
For Val and Mario De Marco, medication to help control their son's ADHD – Attention Deficit and Hyperactivity Disorder – has been a godsend.
"Initially we didn't want to put our son on medication but, after we did, his behaviour improved dramatically," Mario says. "We have four children and one of them was requiring the parenting efforts of both his mom and dad. It's been extremely helpful to be able to disperse our parenting efforts between all our children."
A team of researchers from Alberta Health Services and the University of Calgary is working on a project that could one day ensure that children who are on ADHD medication are performing up to their academic potential.
ADHD is often considered a behavioural disorder, but research has shown it is a brain-based neurodevelopmental disorder marked by poor focus, overactive behaviour and problems controlling impulses. ADHD is often treated with a medication called methylphenidate, which is more commonly known by one of its trade names, Ritalin.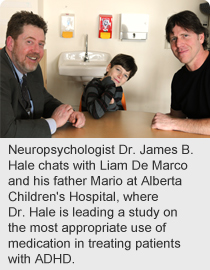 "The challenge for physicians in diagnosing and treating ADHD is that the optimal dose for controlling behaviour may not always be the optimal dose for promoting thinking and learning," says Dr. James B. Hale, a neuropsychologist with the University of Calgary and the principal investigator of the study.
In ADHD, the "brain boss" area – the prefrontal cortex – is underactive or partially "asleep," Hale says. "This is why the stimulant methylphenidate helps these children in school, because it wakes the brain boss so it can control the rest of the brain."
Hale and a team of medical experts and scientists from AHS and the university will examine the effects of methylphenidate on this important brain region. The prefrontal cortex is responsible for focused attention, problem-solving, control of emotions, and goal-directed behaviour.
That area is also important for working memory, or keeping thoughts and ideas in mind, which is critical for school learning. Combined, these executive functions help people concentrate on tasks and learn in classrooms.
"We will be examining cognitive performance of children who are taking methylphenidate, something that hasn't been studied in enough detail. We will look at their performance in problem-solving, memory processes, and decision-making during this study."
Hale and the team feel that if they focus on classroom learning instead of behaviour, children with ADHD could have long-term gains in many areas, including school achievement.
The research team will use both clinical data and neuroimaging to determine the effects of medication in children with ADHD. In addition to weekly neuropsychological testing, behaviour ratings, and classroom observations on and off medicine, the team will use magnetic resonance imaging facilities at Alberta Children's Hospital to understand how the methylphenidate is affecting neural activity.
The study will involve 120 children from the Calgary area, including 100 diagnosed with ADHD, and another 20 who do not have ADHD. One of the De Marco's other children, Liam, took part in the non-ADHD control arm of the study.
Children in the study with ADHD will be monitored for six months and evaluated at the end to see the impact treatment has had on their learning and behaviour.
According to Mental Health Canada, ADHD affects between three to five per cent of children, and more boys than girls.
Hale, a University of Calgary Professor of Education and Pediatrics, and a researcher with Alberta Children's Hospital Research Institute and the Hotchkiss Brain Institute, has been studying ADHD and its effects on children for more than 20 years.
He will work with a team of Calgary clinicians and researchers that includes Dr. Jean-Francois Lemay, Division Chief of Developmental Pediatrics at Alberta Children's Hospital, as well as Drs. Signe Bray, Catherine Lebel and Frank MacMaster, who are part of ACH's diagnostic imaging team.
The research is supported by community donations through the Alberta Children's Hospital Foundation.
Parents interested in enrolling their children in the study should phone Sara Holland at 403-220-5656, Extension 2, or email adhd.braingain@ucalgary.ca. Additional information can also be found on the lab website: http://educ.ucalgary.ca/braingain/.