New echocardiogram machine provides vital testing
Story by Kerri Robins; Photo courtesy of Cathy Couey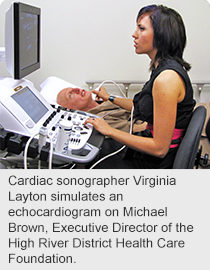 When High River resident Marliss Smith was admitted to the emergency department with chest pains in August, she was very concerned.
"I had a sharp pain in my chest shooting up my jaw and into my ear – it felt like I had a huge weight on my chest," says the 65-year-old grandmother of six.
But a new piece of equipment at the Charles Clarke Medical Centre in High River has helped put her fears to rest.
It's an echocardiogram machine, which offers a painless, non-invasive test with no risks or side effects. It uses sound waves to create images of the heart's chambers and valves while assessing the volume and direction of blood flowing through the heart.
Smith's physician scheduled her for testing and, the following month, she had an echocardiogram at the centre that showed one of her heart valves is thickening.
"It was a little stressful knowing I had to have this test, but it was nice getting this information and my doctor said we'll monitor the valve on an annual basis," says Smith.
The echocargiography service is available thanks to a donation by John and Lorrie Hartley of Okotoks to the High River District Health Care Foundation.
"Echocardiography is really an extension of the stethoscope, so we can not only hear but see the heart as well," says Dr. Greg Schnell, a cardiologist at the Foothills Medical Centre, South Health Campus and his clinic in High River.
"Echocardiograms are great diagnostic tests in cardiology and provide a lot of helpful information – for instance, we can see the amount of damage to the heart as a consequence of heart attack, or the type and severity of heart disease."
An added benefit to the machine in High River is that Foothills-area residents can stay close to home for this important diagnostic test.
Cardiac sonographer Virginia Layton works out of the medical centre on Mondays and Tuesdays and sees mostly rural area residents.
"I hear all the time how happy my patients are to have this test available close to home," says Layton. "A lot of residents aren't comfortable travelling long distances or dealing with traffic and, after all, it's just more pleasant being close to home at a time when they may feel anxious or nervous about the test."
Cardiovascular, or heart disease, is the second leading cause of death in Canada only behind cancer, according to Stats Canada.
The heart healthy test also helps determine whether or not a patient's symptoms are related to heart disease. To top it off, an echocardiogram is useful in monitoring patients with existing cardiac disease and whether their particular problem is getting better or worse.
The Hartleys' gift covered the cost of the echocardiograph machine, clinical equipment, data lines, cabling and server.
Michael Brown, Executive Director of the High River District Health Care Foundation, is pleased with the purchase.
"Having this test available in the community goes a long way toward providing the type of care we need in High River," says Brown. "The Hartleys' generosity is well-received and Foothills residents can rest easy knowing they can have this test done locally."
For more information, visit www.highriverhealthfoundation.ca