Albertans waiting less time for hip and knee surgery
Story by James Stevenson and Amber Goulard; photo by Paul Rotzinger
"I could tell how much better it was as soon as I woke up," says Kelly Anhelher, one of the thousands of Albertans who have benefited from the Hip and Knee Replacement Program.
His quality of life improved significantly in just the first month since surgery, adds the 50-year-old Calgarian. "The surgery was scheduled quickly, the procedure went well and the recovery has been good. It has all been a very positive experience."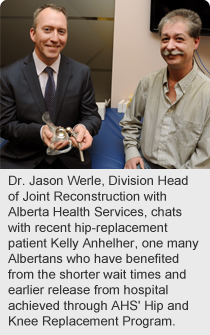 Albertans are waiting less time for hip and knee surgeries, and going home sooner after their procedures, since the launch of this provincewide Alberta Health Services (AHS) program designed to improve the quality and accessibility of orthopedic care.
"Instead of a patient being referred to a very long list, we are able to reduce wait times by having a referral go to the next available surgeon, which results is a reduced wait time for that patient," says Dr. Jason Werle, Division Head, Joint Reconstruction, Bone & Joint Health SCN.
The Hip and Knee Replacement Program has reduced the time between the decision to have surgery and the surgery date to 19.2 weeks, down 12 per cent or almost three weeks from when the program launched in 2010.
Over the same period:
The average hospital stay for hip and knee patients has been reduced from 4.9 days for hip replacements and 4.6 days for knee replacements, to 4.1 days for both. Almost all patients returned to normal function for their age, indicating no ill effects from the shorter hospital stay.
The patient satisfaction rate has increased from 86 per cent to 98 per cent.
Rate of hospital readmission following surgery, already low at 4.3 per cent, has improved even further to 4.1 per cent.
"We've established teams of front line health care providers in all the 12 centres that do joint replacement in Alberta," says Werle.
"This means surgeons, nurses, physiotherapists involved in the care of the patient from consultation through to surgery and back into the community. With that standardized care path we've been able to become more efficient and offer a greater volume of surgeries in a more timely fashion."
Reductions in length of hospital stay have freed up about 33,000 days of hospital bed space since 2010, enabling AHS to perform more than 1,600 additional hip and knee surgeries with the same bed capacity. About 10,000 elective hip and knee replacements are performed annually in Alberta.
"My quality of life had gone to zero; I needed a new hip," says Anhelher.
"I went in, saw the doctor, saw the surgeon three months after and then had surgery a month later. I can already tell the difference."