Tim Hamilton wants to help employers accommodate special-needs workers
Story and photo by Sherri Gallant
If you've ever been to Chinook Regional Hospital, you might have met Tim Hamilton. Like the other volunteers at CRH, Tim wears a volunteer lanyard and vest, but he might be better known as the upbeat fellow in the wheelchair with the great sense of humour.
If Tim helped you find the X-ray department or escorted you to Day Procedures, he'd have taken you right to the desk to ensure you arrived safely. And if he made you feel special, well, you're just one of thousands of patients whose day was brightened during the 25,000 hours he's logged thus far as a volunteer at the hospital.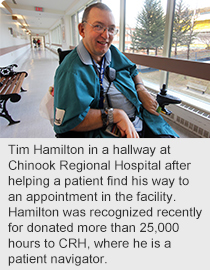 Tim, who has cerebral palsy, was one of the first volunteers who signed on after the regional hospital opened (the facility opened late in 1988 and Tim started early in '89) and he still puts in about 30 hours a week.
"Tim was one of the first volunteers in our volunteer program back in the late 80's," says Judi Reed, South Zone Manager, Volunteer Services. "His dedication and commitment over the years is stellar. Thank you Tim!"
He jokes about being a 'glorified tour guide' but takes pride in his work.
"If you have somewhere you need to go, I'm the guy who will get you there," he smiles. "Being a volunteer helps me get out in the community and sell my positive attitude. It helps me personally to give the one-to-one service. It's priceless. A volunteer can help in many different ways, and I also like to be an advocate for the disabled.
Tim, who's 54, was a keynote speaker late last fall at an event held in Lethbridge for the International Day of Persons with Disabilities. He explains why he takes issue with the word 'handicapped.'
"A cute-looking girl has a handicap, because she has to fight off all the boys," he says. "Whereas a special-needs person just requires some sort of special equipment to be mobile."
He wants to see employers hiring more special-needs workers and working closely with them to understand what they require in the workplace.
"They should work together on building their accessibility," he says. "For example, are the offices or washrooms that are marked 'disabled friendly' really disabled friendly? It's important to pay attention to accessible building design.
"I want to challenge the able-bodied person to work with a special-needs person, because I've learned through experience that a special-needs person can often be more responsible."
Tim lived with his parents most of his life until their health deteriorated. Now they are both deceased and he resides at an assisted living facility in Lethbridge.
"I love it there," he says. "I'm just having a ball."