Student volunteers assist in recreation therapy program
Story and photo by Heather Kipling
High school students are making Tuesdays the most colourful night of the week at the Red Deer Regional Hospital Centre (RDRHC), with the Healing through the Arts program, which combines art and therapy for patients of Rehabilitation Unit 35.
"We've been doing this program for several years," says recreation therapy assistant and program facilitator Frances Welsh. "Student volunteers help the patients, many of whom have disabling conditions that would otherwise prevent them from creating their lovely projects."
The students are from Lindsay Thurber Comprehensive High School. They volunteer their time and talents for two hours a week to help patients explore art techniques. Art instructors Natalie Ficner and Sheena McNiff-Wolfe support the students.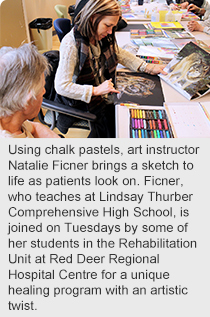 Ficner describes the program as "a refreshing counterbalance to academic success."
"It allows the students to give back and establishes the importance of volunteering," she says. "The benefits are considerable."
Healing through the Arts uses different mediums and techniques — clay, oil, chalk pastels, watercolour, scratch art, lino cuts, monoprints and cut paper — to engage rehabilitation patients at various stages of recovery.
"The students work closely with patients, assisting them in their abilities and involving them at every turn," says Ficner. "The experience allows for personal growth of the students, and helps them understand the importance of empathy and friendship."
Ficner says the program is good for everyone involved.
"It makes me proud as a teacher to see the nurturing nature of the students. The reward is seeing the shared smiles between students and patients."
McNiff-Wolfe agrees, noting the program is a great opportunity for those of different ages and generations to come together.
"It's a great opportunity for youth and adults of all ages to come together. The openness of the students and the joy and wisdom shared by the participants is very rewarding," she says.
The program, which runs from October to May, was developed through a partnership with the high school. It was implemented by a former art teacher from the school and Recreational Therapy at RDRHC in 2003. It is supported by the Foundation for Red Deer Public Schools, which has provided funding to purchase the supplies. Students sign up to volunteer with the various art sessions, either by availability or according to projects that interest them, and they receive an orientation to the Unit prior to beginning.
Each year the program wraps up with an exhibition in May so participants can showcase their artwork to family and friends.
Michelle Nimmo, recreation therapist at RDRHC, explains that recreation therapy builds on personal capacities and abilities.
"We use a variety of leisure activities, like cards, or scrapbooking or doing artwork, to individual interests and hobbies, to build on maximizing independence with their personal leisure pursuits," she says.
Welsh says some sessions may feel more like fun than therapy, as is the case for Healing through the Arts.
"The artwork becomes a way for patients to express themselves and to interact with others, which can disguise the healing that's taking place," she says. "I think it is unique and valuable for the patients regarding their rehabilitation."
"Patients usually leave the sessions with big smiles."
Recreation therapists work in a variety of health care areas and facilities. They provide treatments and recreation activities to improve or maintain people's physical and emotional well-being, and help patients recover basic motor functioning and reasoning abilities, build confidence and socialize more effectively.