Patients have space for prayer, ceremony
Story and Photo by Heather Kipling
The third floor at the Red Deer Regional Hospital Centre (RDRHC) is home to a very special place of healing.
Officially opened in January, the new Aboriginal spiritual room is the first of its kind in the Central Zone. Quiet, comfortable and decorated with artwork from local Aboriginal artists, the room provides patients with a place for traditional ceremony and prayer.
"This room is a beautiful space. It's the beauty of healing," says Wayne Burnstick, Aboriginal cultural helper with the Aboriginal Health Program in the Edmonton Zone.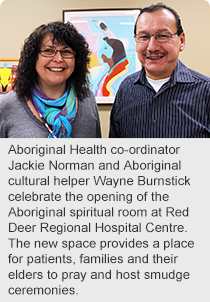 Burnstick has been overseeing a similar space, the Charles Camsell room at the Royal Alexandra Hospital, since 1996. "For our people, medicine is part of a balance with the spirit, and a lot of times in hospital, we don't have spiritual balance which is needed to heal.
"This room can now provide that spiritual piece for patients."
The vision for the Aboriginal spiritual room began almost a year ago. The Alberta Health Services Aboriginal Health Central Zone team, including team lead Tracy Lee and Aboriginal Health co-ordinator Jackie Norman, took a leading role in working with RDRHC to make the room a reality.
Norman is one of three Aboriginal Health co-ordinators in Central Zone. She supports all Aboriginal people who access health care, including Status and Non-Status First Nations, Métis and Inuit.
"We started working towards this room last January," she explains. "We had patients who wanted to smudge [the traditional practice of burning dried herbs] and to pray, so I put out a call for an elder to help us make that happen here at the hospital.
"We now have an elder who volunteers and offers a smudge ceremony for patients at the hospital each month, and from there we started discussions about the room itself and how we could provide a space for patients to have that spiritual connection."
Designed in warm, natural tones, the space provides a home-like environment for patients, families and their elders. It will be accessible through the Aboriginal Health co-ordinators.
Patients will also have access to Norman, who has offices in Red Deer and Ponoka. Aboriginal Health co-ordinators help patients address a wide range of potential obstacles, including language barriers, cultural differences, transportation issues, system navigation and more. They also support all health care providers in Central Zone who require information or assistance in caring for their Aboriginal patients or residents.
"We've seen a real need for an Aboriginal Health co-ordinator who can provide support and be there for the Aboriginal population," says Norman. "Often when patients come from reserves, they've never accessed the health care system before, and it can be a culture shock. We help explain to health care providers the cultural and social perspective that our clients are coming from."
In addition to Norman's work, the new spiritual room itself will also help provide cultural awareness.
"This is a great addition to our facility," says Allan Sinclair, executive director, Red Deer. "It will help raise awareness among staff and other patients, and it helps us provide the best care possible to our Aboriginal patients."