Getting best dosage making a difference for father of four
Story by Kerri Robins; Photo courtesy Bruce Schneuker
CROSSFIELD — It all happened frighteningly fast for Bruce Schneuker, a 51-year-old journeyman carpenter and father of four in this small town a half-hour's drive north of Calgary.
"I really didn't feel that bad, just a little tired and kind of flu-ish," he says.
But a visit to his doctor in February of 2013 revealed stage 4 metastatic renal cancer in one of his kidneys — and it was also causing a blockage in the vein to his heart.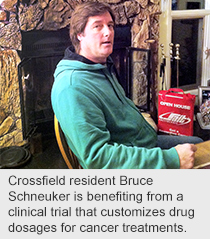 This rare form of cancer is currently the subject of a pan-Canadian clinical therapy trial designed to evaluate the optimum individual dose of the drug Sunitinib in its treatment.
"It was all pretty shocking, because I'm a fit guy and really wasn't having any serious symptoms, other than shortness of breath, at times, because of the blocked vein," adds Schneuker, a non-smoker. Less than two weeks after his diagnosis, the cancerous kidney was removed. Surgeons also did a partial vein replacement to restore circulation.
Following surgery, Schneuker went to Dr. Daniel Heng, an oncologist and specialist in kidney cancer at the Tom Baker Cancer Centre in Calgary.
After discovering a cancer spot on Schneuker's lung, Dr. Heng proposed an innovative cancer therapy trial, both as a proactive treatment to prevent the cancer's spread and to help shrink the lung spot. Schneuker agreed to undergo treatment in the trial.
Initially, all patients begin treatment with the same dosage of Sunitinib, a drug taken orally. Under the trial, however, the dosage is soon customized, based on any side effects, in order to increase the desired results.
Schneuker, who commenced the trial in April of 2013, continues to this day.
Scans now show that Schneuker's cancer has neither spread to his remaining kidney nor any further to his heart. In fact, his lung spot has shrunk roughly 20 to 30 per cent.
Despite his side effects of nausea and achy joints, Schneuker remains optimistic.
"I'm not sure how long I'm going to be on this treatment, but if it helps, it's definitely worth it," he says.
Dr. Heng agrees.
"This trial is very important because it's Canadian-grown and studies the question of whether patients with dose individualization will do better with a longer survival rate," he says. "It could possibly change the way we dose our patients."
The trial database, which compiles the results of 3,250 patients from 22 centres around the world, is being used to help doctors predict how well a patient will do. Physicians can use it to gauge which drugs to use, and in what sequence.
It also guides doctors on whether a kidney tumour should be removed, in cases where cancer has spread elsewhere in the body.
Thanks to the support of the Alberta Cancer Foundation cancer centres in Alberta conduct many similar clinical trials for rare types of tumours. This funding ensures Albertans with rare tumours get the chance to test cutting-edge treatments.
Myka Osinchuk, CEO of the Alberta Cancer Foundation, is committed to ensure donors' dollars deliver improved treatment, survival and quality of life.
"Success from these trials translates directly into shaping the future of cancer therapies," says Osinchuk. "We are committed to providing access to excellent treatment for Albertans and supporting cancer clinical trials goes a long way to ensure positive outcomes."
For more information, visit www.albertacancer.ca.
— with files from Kira Kulicki