$9M investment adds about 500 new spaces
Story by James Stevenson and Amber Goulard
Noreen Philo's eyes light up when she talks about the adult day program she attends in Calgary.
"We visit and play cards and do different things to occupy our time," the 86-year-old Calgarian says of AgeCare's adult day program at Beverly Centre Lake Midnapore in south Calgary where she visits twice a week.
"The main thing is we enjoy seeing each other and conversing. It takes you out among other people and it keeps you informed about what's going on."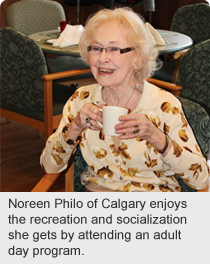 Philo is one of about 3,000 seniors who currently participate in 83 adult day programs offered by Alberta Health Services (AHS) across the province.
An investment of $9 million over three years has been used to expand existing adult day programs and to launch new adult day programs in both Calgary and Edmonton. This will benefit more than 500 additional seniors.
Both types of adult day programs – basic and comprehensive – typically provide services once or twice a week, for about six hours per day.
Basic adult day programs provide basic health care, recreation and socialization to seniors who require support, and respite services for caregivers.
Seniors with complex health needs can be served in comprehensive adult day programs, which offer medical monitoring and treatment, medication assistance, rehabilitation, transportation and in-home personal care.
"We're really proud of the work we've done in the community. Seniors involved the program come in several days a week and join other seniors in the community to do activities, exercise, socialize and events, and just have a lot of fun," says Barb Noad, AgeCare's marketing and communications manager.
"One of the things we see when seniors are living at home is that sometimes they can get a feeling of isolation being on their own and this is a way for them to connect with their peers."
Cheryl Knight, Executive Director of Seniors Health for AHS, says adult day programs are an integral part of AHS' seniors strategy.
"By getting seniors out of their homes once or twice a week, we're helping them stay in their homes longer and providing caregivers with a needed break to ensure they can stay well while continuing in their caregiving role," Knight says.
As an added bonus, seniors in the adult day programs are monitored by health professionals who may be able to identify and treat medical issues before they become serious – potentially so serious that seniors would be unable to remain at home.
Philo's daughter, Janice, certainly appreciates the break the program gives her, as well as the peace of mind.
"For us as a family it's been a great program because it allows us to not have to worry about mom for two days a week, wondering what she's doing or that she's not interacting with people. It's really relieved stress for us as caregivers," Janice says.
To see if you or a loved one could benefit from an adult day program in your community, please contact one of the below numbers, depending on where you live in Alberta.
North Zone: 1-855-371-4122
Edmonton Zone: 780-496-1300
Central Zone: 1-877-341-2131
Calgary Zone: 403-943-1920
South Zone: 1-866-388-6380