Friedenreich recognized examining cancer, exercise links
Story by James Stevenson; photo by Paul Rotzinger
Dr. Christine Friedenreich has spent her entire career looking at the effects of exercise and physical activity on preventing and surviving cancer.
"Back in the early 1990s, there was very little evidence to suggest that physical activity had much of a role to play in the cancer experience," says Friedenreich, who is the Scientific Leader for the Department of Population Health Research at Alberta Health Services – CancerControl Alberta and the Division Head, Division of Preventive Oncology, Department of Oncology, University of Calgary.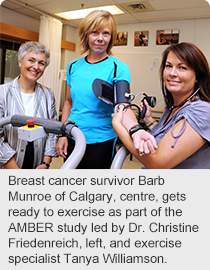 Much has changed since then, and Friedenreich's research on the role of physical activity in cancer control has included more than 35 studies – from prevention to survival. Specifically, she has examined how lifetime physical activity is related to the lowered risk of developing breast, prostate and endometrial cancers, as well as how physical activity is related to survival after cancer.
For this work, she was recently awarded the Canadian Cancer Society's O. Harold Warwick Prize, which is given to a scientist whose research has had a major impact on cancer control in Canada. The prize is named after Dr. Harold Warwick, a pioneering researcher in cancer control and treatment, who became the first executive director of both the former National Cancer Institute of Canada and the Canadian Cancer Society.
"Dr. Friedenreich is a pioneer in cancer prevention research," says Dr. Greg Cairncross, Scientific Director of the Southern Alberta Cancer Research Institute in Calgary, of which Friedenreich is a member.
"She and her colleagues established that regular exercise reduces the risk of breast cancer and also reduces the risk of recurrence of breast cancer after treatment. These very important findings underscore the value of physical activity in cancer prevention and health maintenance."
Friedenreich also holds the Alberta Cancer Foundation Weekend to End Women's Breast Cancer Chair at the University of Calgary, as well as an Alberta Innovates-Health Solutions Health Senior Scholar Award.
She has conducted large-scale randomized controlled exercise intervention trials that have examined how physical activity reduces cancer risk, improves coping and rehabilitation after cancer diagnosis, and improves survival. Her research is being used to develop public health recommendations on the type, timing and volume of physical activity that can be used to decrease cancer risk and improve survival.
"I have worked closely with Dr. Friedenreich over the past seven years and am proud of her achievements in cancer epidemiology," says Dr. Peter Craighead, Medical Director at the Tom Baker Cancer Centre.
"Her pivotal research and collaboration across the country with experts in the physical activity domain are legendary. Through her research, we are able to confidently state that exercise can help prevent breast cancer, and that physical activity during treatment positively impacts many cancer patients."
- 30 -