Exercise machine allows for customized physio plans
Story by Kerri Robins; photo by Lesley Vivian
No pain, no gain!
At least that's what many personal trainers say, but patients at Cold Lake Healthcare Centre have some top-notch equipment in their physiotherapy department that's putting more gain than pain in their exercise routines.
Funded by Hearts for Healthcare and made possible by through donations from the Hearts for Hospital gala in 2013, the centre now boasts the Hoist 4400, a multi-gym strength training system purchased for $7,350.
Up to four people can use the multi-gym at the same time to perform a variety of exercises depending on their particular requirements.
Kevin Cardinal, 49, is a client at the centre and a fan of the Hoist 4400. He's been using it for strength-training in preparation for receiving two prosthetic legs below the knee.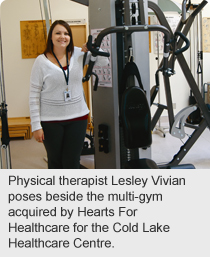 "It's easy to use and safe compared to free weights," says Cardinal. "And it's helping me improve my technique and getting me ready for my prosthetic legs."
Centre physical therapist Lesley Vivian sees a lot of benefit to the machine.
"The multi-gym helps us provide an improved level of care for a variety of clients," says Vivian. "We can customize individual workout routines based on patients' injury, fitness level or simply for strength training."
The multi-gym is accessible for most patients whether they are in wheelchairs or using a walker. The machine has four stations and features a leg press, adjustable cable column, rigid arm pull-down and chest press/leg extension, and standing leg curl options.
For Cardinal, weight training is critical.
"I'm improving my upper body and core strength so I can walk again one day," he says.
Vivian is thrilled with the equipment.
"We were ecstatic when we found out we were getting the multi-gym because we can treat more clients at once," says Vivian. "The multi-gym also allows us to help our clients choose the best workout based on individual lifestyle – something they can transition to at a community gym or at home."
Theresa Nickel, Executive Director of Hearts for Healthcare, was at the heart of the Hearts For Hospital gala, which raised $220,000.
"Hundreds of hours went into organizing and planning the event," says Nickel. "But seeing the benefits and impact our support has on our health care centre and local health care in general makes it well worth the effort."
For more information, please visit www.heartsforhealthcare.ca.