Albertans encouraged to consider donation
Story and photo by Colin Zak
Running, jumping and spinning – as a professional dancer, doing all these things are crucial for Erin Linn.
But a popped kneecap in 2008 not only compromised her ability to dance but her ability to walk.
"I basically couldn't move. My whole life is being active and I was devastated," says the 32-year-old Calgary woman. "I had few treatment options except for a cartilage transplant."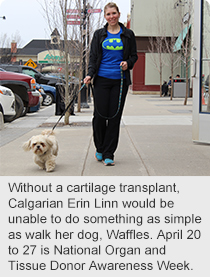 She underwent the procedure, which was successful in rebuilding her knee. It was made possible only by donated tissue. Without the procedure, Linn says she would not have been able to continue her active lifestyle and eventually pursue a career as an athletic therapist.
"I can't describe the feeling of walking up stairs for the first time after my injury. We take simple things like that for granted," Linn says. "As an athletic therapist, I wouldn't be able to do my job without the ability to walk and manoeuvre clients."
April 20 to 27 is National Organ and Tissue Donor Awareness Week. It is an opportunity to honour donor families, their deceased loved ones, living donors, transplant recipients and transplant candidates.
Organs and tissues from one donor can potentially be used to help as many as 80 people. Currently, there are nearly 800 Albertans waiting for an organ transplant. In addition, there are many Albertans who benefit from donated tissue in various surgical procedures.
Dr. Andreas Kramer, Medical Director for the Southern Alberta Organ and Tissue Donation Program in Calgary, says Linn's situation is more common than many might expect.
"Bone, tendons and cartilage are the most common tissues needed for use in the operating room. The need for these is great," Kramer says.
"The decision to donate can be a difficult discussion for patients and their families, but it's an important one, as it can have major implications on the quality of life of others.
"Doctors, nurses and other clinicians can play a key role in helping facilitate that conversation and letting patients and families know about the impact they can have in helping people."
Donated bone, tendon and cartilage can be used in orthopedic procedures, back surgery, reconstructive surgery and joint reconstruction – especially important for Alberta's aging population, Kramer says.
Corneas and sclera from the eye are used in sight-restoring procedures, and skin offers a temporary covering for burn patients. Heart valves can save the lives of children with congenital heart defects. Some tissues can be preserved from two to five years and distributed when a suitable recipient is identified.
Organs such as the heart, lungs, liver, kidneys, pancreas and small bowel are usually transplanted within hours.
"We encourage Albertans to consider organ and tissue donation. Talk to your family about what your wishes are, sign the back of your Alberta Health Card, and register your intent to donate online at www.myhealth.alberta.ca," says Dr. Jim Kutsogiannis, Medical Director of the HOPE (Human Organ Procurement Exchange) Program in Edmonton.
"We also encourage clinicians to discuss the option of donating with patients and their families, if appropriate."
Linn says she's glad that conversation happened.
"I'm so grateful someone made the choice to donate. It's transformed my life. The benefits cannot be measured – you can save a life through transplant, or help advance medical research," she says.
"I would like to thank every person and family who decides to become an organ and tissue donor."