Dialysis chair does double duty as exercise bike
Story by Kerri Robins; photo by Donna Dooley
Three days a week, four hours a day, Rick Padfield must sit in a chair to receive kidney dialysis at the Renal Unit in Medicine Hat.
But these days, he manages to squeeze in a little exercise as well.
"First thing in the morning is my workout," says Padfield. "It's pretty easy. I just remove the chair's footrest and pull up a bike machine under the seat of the chair and I'm ready for a bike ride."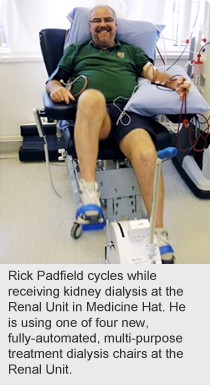 The chair that makes this workout possible is one of four new, fully automated, multi-purpose treatment dialysis chairs purchased for the Renal Unit.
Thanks to donations from Lions Club of Medicine Hat and the Medicine Hat Regional Hospital Auxiliary Association, the Medicine Hat & District Health Foundation was able to fund the four chairs in the total amount of $15,000.
The chairs have a removable footrest that can be replaced with a bike machine attachment, something Padfield, a former construction safety officer, finds a welcome diversion during his treatments.
On dialysis since 2004, Padfield says the procedure is a necessary commitment.
"When I was 24 years old, I developed polycystic kidney disease, where cysts started growing in my kidneys until they lost their ability to function. And here I am, nine years later."
Because of the amount of time he and other patients must spend receiving dialysis, comfort is key.
"The chairs really give us an extra measure of independence because we can automatically adjust the backrest and footrest ourselves now," says Padfield. "In the past, we had to call a staff member to manually adjust the chair to a comfortable position."
The arm and footrests also extend to accommodate taller people.
"The chairs are wider and more comfortable because of these air-and gel-filled cushions," says Padfield.
Donna Dooley, unit manager of the Medicine Hat Renal Unit, is delighted with the chairs as well.
"One of the complications of dialysis is a fluctuation in vital signs; for example, lowered blood pressure due to fluid removal during the dialysis treatment," says Dooley.
"When this happens we have to get the patient's feet elevated and head lowered quickly to raise the blood pressure — the automated feature of the chair lets us recline the patient quickly and safely."
Kidneys eliminate waste and fluid from the blood but can fail due to disease, accident, infection or, in Padfield's case, a hereditary condition.
Dialysis acts as the artificial kidney, but the process confines patients to a chair where the machine pulls, cleans and then returns blood back to the patient.
Padfield is upbeat and perseveres.
"I'm on the kidney transplant list but, until one becomes available, I'm stuck in this chair for treatment three days a week," says Padfield. "It's certainly a mental issue, but I told myself a long time ago I'd stay positive."
Dan Kammerer, Executive Director, Medicine Hat & District Health Foundation, is pleased with the community support and donations for this special equipment.
"We're thrilled to be part of providing much-needed comfort and care to our patients. It's the kind and compassionate support of our community members that helps provide quality local health care."
For more information, please visit Foundations & Health Trusts.