When Frank De Bortoli was diagnosed with inoperable pancreatic cancer, he wasn't expected to live much longer than six months. That was in 2010.
Today, the 55-year-old enjoys spending some of his free time refinishing two cedar trunks that his parents brought with them to Canada from Italy. He intends to give one to each of his two adult children.
De Bortoli credits his survival, in part, to his involvement in a clinical trial at the Tom Baker Cancer Centre in Calgary that tested two pharmaceutical agents given in a novel combination: a new drug, nab-Paclitaxel (Abraxane), plus a drug that's been the standard treatment for 15 years, Gemcitabine.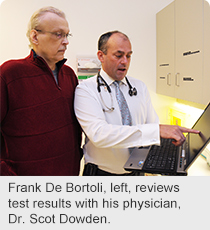 "It sounds hokey but I think faith has had a lot to do with it, too," De Bortoli says. "It seemed like every time a problem came up, something else would happen to turn it into a positive."
De Bortoli is one of more than 300 cancer patients at the Tom Baker who enrol in clinical trials each year. His physician, Dr. Scot Dowden, was the site lead for an international study that looked at the impact of giving the two chemotherapy agents in combination.
The remarkable results of that research were recently published in the New England Journal of Medicine.
"We found that the two drugs together resulted in an increased survival of 8.5 months," Dr. Dowden says. "That may not sound like much but that's an average number and many patients have survived much, much longer."
It also means that some patients survived less than 8.5 months.
Cancer of the pancreas is a particularly deadly form of the illness. The five-year survival rate for metastatic pancreatic cancer is just two per cent. In comparison, the five-year survival rate for metastatic breast cancer is 50 per cent and for colon cancer about 40 per cent.
Dowden notes that small, incremental improvements in cancer treatment add up. For example, 12 years ago the average length of survival for a patient with metastatic colon cancer was 10 months; today, it's three years and five months.
Improvements in treatment wouldn't be possible without the leading-edge research that takes place at Alberta's two major cancer centres: the Tom Baker Cancer Centre in Calgary and the Cross Cancer Institute in Edmonton.
"Clinical trials are a vital endeavour for us as an institution," says Dr. Gwyn Bebb, an oncologist and director of the Clinical Trials Unit at Tom Baker. "The fact that we can give patients the opportunity to participate in studies offers hope, often where there isn't any. Always, the aim is to find more effective, less toxic, new treatments."
There are currently more than 100 research trials in progress that are actively recruiting patients at Tom Baker. Aside from offering patients promising new therapies, clinical trials also help improve physicians' familiarity with new agents before they become accepted into daily practice.
Dr. Bebb says cancer centres participating in clinical trials tend to have better overall patient outcomes than centres that don't, regardless of whether patients are actually enrolled in a study or not.
"The amount of knowledge and expertise is increased right across the board," he says. "It lifts everyone's game."
Rigorous regulations are in place to minimize risks to patients involved in clinical trials. New agents undergo safety testing before reaching the human trials stage; prospective studies must meet stringent requirements set by provincial and institutional research ethics boards. Even if a patient is placed in the control arm of a study, they will always receive the current standard of care for their illness.
The Calgary arm of the nab-Paclitaxel plus Gemcitabine study was made possible, in part, through an investment from the Alberta Cancer Foundation. The foundation works to ensure clinical research units are well-equipped to deliver the best treatment and care possible to Albertans facing cancer.
Right now, about six to seven per cent of Tom Baker's annual load of roughly 5,000 patients participate in research studies.
In Alberta in 2011, 381 people were diagnosed with pancreatic cancer and 331 died from the disease.
"This is the first time in history we're seeing some substantial improvement in survival in pancreatic cancer," Dr. Dowden says. "It's nice to finally see something beneficial for this disease."