Taking a spin to cure cancer - Researcher's cycling team races past $1M for foundation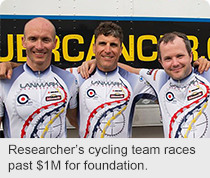 Story by Kerri Robins; photo courtesy Nigel Brockton
After two brushes with cancer, Nigel Brockton knew what he had to do with his life.
"I was always going to be a marine biologist — but I ended up a cancer researcher instead," says Dr. Brockton, a Research Scientist with Cancer Control Alberta for Alberta Health Services.
"I changed my mind about my field of study after my second diagnosis with Ewing's sarcoma, a rare type of bone tumor, when I was 18. I really shouldn't be alive, but here I am 25 years later — and doing my part to support others diagnosed with cancer."
The 43-year-old is the founder and a cyclist with the One Aim team who rides every year in the Enbridge Ride to Conquer Cancer to support the Alberta Cancer Foundation. Over the past four years, Brockton and his teammates have raised more than $1 million … and counting.
"We've got about 194 riders from all walks of life," adds Brockton. "I really enjoy cycling and the people I ride with are an amazing group with so many great stories to tell."
"My research focuses on why people get cancer and who is at the greatest risk of their cancer spreading," says Brockton. "Getting sick certainly directed my career towards research and gave me a chance to change the lives of future of cancer patients."
"But it also gave me an opportunity to help people by encouraging them as one cancer survivor to another. Volunteering my time to Alberta Cancer Foundation helps me impact people's lives today. That's a huge reward for me."
The Alberta Cancer Foundation supports advancement in cancer research, prevention, treatment and care through community support and investment at the Cross Cancer Institute, Tom Baker Cancer Centre and 15 other cancer centres throughout the province.
The foundation also works in partnership with Alberta Health Services by providing resources to various cancer programs.
"Without cancer research we wouldn't be as far ahead as we are today," says Brockton. "I feel privileged to work in this field helping people. While I'm not a medical doctor, I can certainly bring that personal understanding and compassion to cancer patients, their friends and families, because I've been there — I know how it feels."
Cancer research and development provides tangible benefits to patients because it helps provide the opportunities for new therapies, treatments and prevention.
Despite his chemotherapy and radiation treatment, Brockton and his wife Virginia are the proud parents of Josh, 7, and Ella, 5.
"I want my research to impact the future lives of patients — but helping the people I ride with and the honour of supporting cancer research is something I can do to make an impact today," adds Brockton.
Please visit www.albertacancer.ca or www.albertahealthservices/give to make a donation or to inquire about volunteer opportunities.