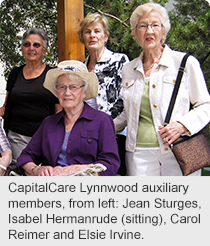 "I've been at it for a long time now and I can't think of anything that would make me give it up," says 82-year-old Elsie Irvine, gift shop co-ordinator for the Members Auxiliary, CapitalCare Lynnwood. "I get more out of it than I give — much more really and it's such a small amount of time that I invest."
Formed in 1967, the auxiliary members work hard volunteering their time to support the CapitalCare Foundation and residents of CapitalCare Lynnwood in Edmonton.
In 2005, they expanded and began running a gift shop on-site at the continuing care centre — and they've never ceased to amaze with the amount of funds raised.
"It's really incredible what these ladies raise through relatively small items like candy and pop, gift trinkets, scarves, toiletries, flowers and jewelry," says Sherry Schaefer, Director of Fundraising and Donor Relations, CapitalCare Foundation.
Adds Irvine: "We try not to sell anything over $30 because we want it to be affordable for residents who may want to buy a little something for family members when visiting."
To date the gift shop has raised $193,142 — all the more impressive when one considers most items there cost under five bucks.
"It's seems like each year has a different craze — one year we couldn't keep scarves on the shelves and another year it was garden rocks," says Irvine. "The gift shop is 100 per cent volunteer run and these ladies are certainly powerhouses when it comes to helping their foundation contribute to the exceptional care Lynnwood continuing care residents receive."
Open six days a week from 11 a.m. to 3 p.m., these ladies rock! Over the years they've donated the money earned through the gift shop to a number of initiatives.
"Last summer we donated almost $20,000 that helped the foundation purchase patio furniture for the renovated garden space so families could enjoy a nice, shaded area in the summer," says Irvine.
A much needed family-centred space, the area is used extensively for birthdays, lunches, celebratory get-togethers and quiet visits. It's the perfect recipe for health and relaxation where people can take advantage of the sun and fresh air.
It's clear Irvine is proud to work with the team. "The ladies I work with are amazing and I'm only a small part of a really great thing here," says Irvine.
Close to 60 member auxiliaries within the Alberta Health Care Auxiliaries Association give support to hospitals in their communities across Alberta.
Please visit www.capitalcarefoundation.net or www.albertahealthservices/give to make a donation or to inquire about volunteer opportunities.