Clinic taps expertise of Cross Cancer Institute and Mazankowski
Story by Greg Kennedy; Photo by Dale MacMillan
EDMONTON — When Charles Milligan was told last fall he had, at best, days to live, his bucket list was a humble one: to live to see the birth of his great-nephew and to celebrate his 60th birthday.
"Doctors told my family they didn't have much hope. It looked like I had less than a month to live," says the 59-year-old Edmontonian, who was diagnosed last September with Stage 4 non-Hodgkin's lymphoma, a cancer that starts in lymphocytes (special white blood cells of the lymphatic system) that work with other parts of the immune system to help the body fight infection and disease.
Immediate radiation therapy, followed by chemotherapy, helped greatly.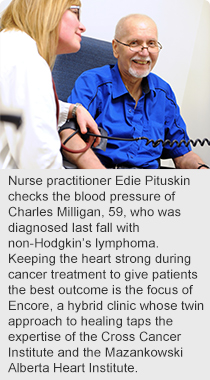 "I went to having no time at all to now, when I could have five years or more," he says of the brighter prognosis.
Over the course of cancer treatment, however, his heart weakened and Milligan recently joined an innovative program with a goal to strengthen his heart function, boost his fitness level and help prepare him to receive a stem cell transplant in the near future.
Keeping the heart strong during cancer treatment to give patients the best outcome is the focus of the Encore clinic, whose twin approach to healing taps the expertise of the Cross Cancer Institute and the Mazankowski Alberta Heart Institute.
"We're hoping we can prevent heart disease, not only during cancer treatment itself, but also after the cancer treatment is done," says Mazankowski cardiologist Dr. Ian Paterson. "Cardiac care influences, in many ways, how well patients do with their cancer treatments."
Paterson's clinical partner, Edie Pituskin, PhD and nurse practitioner with the Cross Cancer Institute, adds: "When patients come in with heart problems while we're giving them treatments for cancer, having access to a clinical team that has probably the most experience with cardio-oncology in Canada is a really good thing. It not only enables the oncology team to proceed with the planned chemotherapy treatments, but they know they're proceeding safely — and the patients are receiving the full dose — which is what we want for the best outcomes."
National statistics show cancer is currently responsible for 29.8 per cent of deaths; while heart diseases account for 20.7 per cent. With its double-pronged approach to healing and wellness, the Encore (Edmonton Cardio-Oncology Research) clinic maximizes the heart function of cancer patients before, during and after treatment. For some patients, keeping heart function above 50 per cent is necessary to safely deliver powerful chemotherapy.
"The program has really created a valuable link for patient-focused heart health assessments for cancer patients during treatment," says Dr. Matthew Parliament, Medical Director of the Cross Cancer Institute.
On first referral, the program fast-tracks cancer patients with heart issues to a cardiologist, often within a week, to ensure appropriate medicines, diet and physical activities are put in place, since patients who receive both chemo and heart care concurrently within the first two months of cancer detection also enjoy the highest survival rates and healthiest long-term outcomes.
The clinic has helped 130 patients in its first two years, and has taken part in many more "hallway consults" with doctors concerned about their patients.
"We're also providing a lot of education for patients, for family physicians, for nurse practitioners and for oncologists," says Dr. Paterson. "We also do a lot of dot-connecting. Through this clinic, we've given people psychological support, nutrition support, exercise support and more. We've become a hub for care."
Hematologist Irwindeep Sandhu, an assistant professor with the Faculty of Medicine and Dentistry at the University of Alberta, adds: "When dealing with blood cancers like acute leukemia, lymphoma, or multiple myeloma, heart disease not only limits our use of curative and life-prolonging therapy but also can be a side effect from our therapy. This program offers a hand with specialized expertise for these patients."
When it comes to bone-marrow transplants, nurse practitioner Nan Cox-Kennett of the Cross Cancer Insititute says that one in five of her patients benefits from the cardiac review provided by the program.
"Thanks to this timely intervention, 100 per cent of these patients to date have proceeded to transplant without significant delay," she says. "Encore is providing an essential service to our patients."
Certain rare blood cancers, such as amyloidosis, can reduce the heart's ability to fill with blood in between heartbeats, thereby impeding its function.
"Encore has been important in ensuring such patients have access to the supportive care required to adequately diagnose and manage these complex cases," says Cross Cancer Institute hematologist Dr. Christopher Venner.
"Overall, this program is an excellent example of the successful partnerships required to ensure ongoing success in the care of our patients."
Dr. Scott North, Director of Medical Oncology at the Cross Cancer Institute, puts it simply: "Cardiology and oncology are both incredibly complex disciplines and the two domains often meet in patients who have cancer. Both staff and patients are very fortunate that we have such an incredible program available to us, as not all people in the country are so lucky."
The Alberta Cancer Foundation, which provided initial support for Encore, sees the program as instrumental in improving the lives of Albertans with cancer by improving outcomes, reducing side effects and suffering, and informing new avenues of research and clinical team work.
For Milligan, whose great-nephew is now four months old, and who turns 60 in September, the future looks much brighter.
"I'm doing a lot of walking, trying to get my heart rate up. I'm also taking heart medication," he says. "I can't say enough about the care at the Cross and the care at the Mazankowski. They put my fears to bed. We've got a game plan — and we know how we're going to fix it."