Daughter can't be immunized due to transplanted heart
Story and Photo by Mark Evans
Adelaide Radbourne is a busy five-year-old who dances, plays hockey, goes to preschool and will always choose a tiara over a headband when going out, especially if she's going to get her picture taken.
Unfortunately, going out at all – tiara or not – will become a challenge for Adelaide if measles continues to spread around the province.
Adelaide is a heart-transplant recipient. Although the transplanted heart has given her new life, Adelaide must be on immune-suppressing drugs to ensure her body doesn't reject this life-saving organ.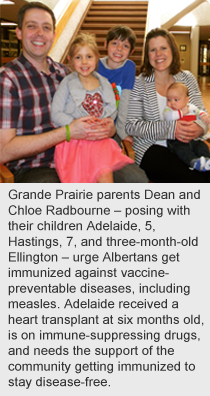 While on immune-suppressing drugs, Adelaide can't receive all of the immunizations other children can safely receive at this young and vulnerable age, including the measles vaccine. Instead, she relies on people around her getting their measles immunization, which is the only way Adelaide can be protected.
Measles, an extremely contagious and potentially fatal illness, is very frightening for her family.
"Measles is such a big concern for us," says Chloe Radbourne, Adelaide's mom.
"It's terrifying. We have to consider: what do we do if it comes to our community? Do we withdraw her from her activities? And how do you explain that to a five-year-old?"
It's not only children with transplanted hearts who are at risk when a community becomes complacent about immunization.
Newborns, cancer patients and individuals with autoimmune disease are also at increased risk of vaccine-preventable diseases.
Chloe and her husband, Dean, also have Adelaide's seven-year-old and three-month-old siblings in mind when they encourage people to get their immunizations.
Alberta Health Services (AHS) offers routine childhood immunizations at public health clinics and community health centres around the province. Call your local public health clinic or community health centre to book an appointment.
AHS has information on the current measles outbreak and opportunities for immunization. Visit www.albertahealthservices.ca/measles.
Dean says vaccinations can be "a difficult topic. Many people have strongly held views that are not always based on facts."
He says many people believe the decision not to vaccinate is a personal one that doesn't affect others.
"People need to understand there are risks with not getting immunized, not just for the individual but for the whole community," Dean says. "The good news is, when people learn their personal choice puts our daughter at risk, and get accurate information about immunization, they realize it's something they should do."
Adds Chloe: "Parents care enough to not send peanut butter to school with kids to protect those with peanut allergies, so we know parents must care enough to prevent their children from spreading disease to other children, too. We work really hard at trying to encourage and educate people. It's our daughter's life and our infant son's life, too."