Facility offers 24-hour ED and other new services
Story by Christi Retson-Spalding; and photos by Christi Retson-Spalding, Dale MacMillan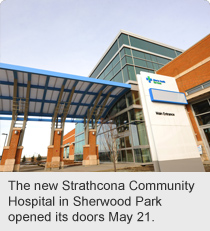 When the new Strathcona Community Hospital opened its doors to the public at 8 a.m. on May 21, there was already a patient waiting to be seen.
Soon after, another followed, and then another. By noon, Sherwood Park's new emergency department had triaged and treated 21 patients, two of whom arrived at the hospital by ambulance.
For Zoe Boisvert, one of the first patients seen in the new hospital, having the facility open meant that she didn't have to travel about 30 kilometres to Edmonton to have her badly bruised and swollen ankle examined.
"I had an appointment this morning that I would've missed if I had to drive to the city and wait in an emergency department there," she says. "I arrived, was seen, X-rayed, treated and, within an hour, I was on my way home."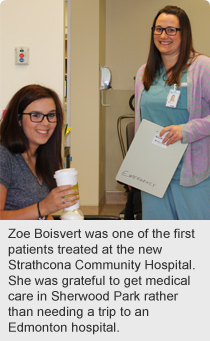 This facility brings a number of health care services to Strathcona County that were not previously available in the community – most notably, a 24-hour emergency department, including 27 individual treatment spaces, with specialty treatment rooms for trauma, women's health, orthopedics and an isolation room for communicable diseases.
The emergency department will be supported by on-site diagnostic imaging services, including computer tomography (CT) scanning, pharmacy services and an IV therapy clinic. The new hospital will also provide laboratory services and rehabilitation services, including physical therapy and occupational therapy.
"Last year, 30,000 residents travelled from Strathcona County to Edmonton for emergency care," says site manager Sue Chesney. "Those in need of intravenous therapy might have needed to travel up to three times per day for treatment. They can now receive this therapy closer to home, in a clinic that will be open 16 hours per day. As a resident of this community, I understand how important this is."
A community hospital in the truest sense, the hospital will not only provide patients and families with first-class health care services, it will also provide opportunities for employment, volunteering and for individuals and local businesses to be part of caring for their community through the hospital's foundation.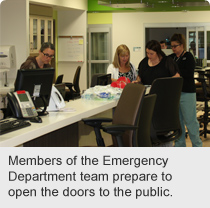 "This day has been a long time coming and we're so happy to be able to open the doors to Alberta's newest hospital, increasing access to emergency care, primary care, community-based health care, and addiction and mental health services for the residents of Strathcona County," says Dr. Sunil Sookram, Facility Medical Director and emergency medicine physician.
"In the months to come, we will expand ambulatory services at this facility, ensuring the people that live and work in Sherwood Park and surrounding communities will be able to come here for the care they need."
The hospital includes many state-of-the-art features, including hand-hygiene sinks throughout the building, cleanable surfaces that are resistant to microbial growth, touch-less door openers, and motion sensors on bathroom fixtures.