Researchers study exercise alternative for people with Type 2 diabetes
Story by Greg Harris; Photo by Greg Harris
Sara Brodsky has been living with Type 2 diabetes for about four years and she knows she's at a point where she needs get better control.
"I'm at a stage where my blood sugar numbers have gotten worse," the 49-year-old Calgary woman says. "I'd really like to see what I can do to avoid going on insulin injections."
Brodsky is one of several people with Type 2 diabetes who have signed up for an exercise study that's testing whether an exercise program using resistance band training helps improve blood sugar control, strength, and heart disease risk factors.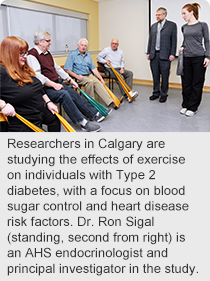 Although other studies have looked at the effects of resistance training using weight machines in gyms, this is the first high-quality study to see whether resistance bands, which are inexpensive and portable, might be an effective alternative.
"We know that traditional resistance training with weight machines builds strength and makes the insulin that your body produces work better," says Dr. Ron Sigal, the principal investigator in the study and an Alberta Health Services endocrinologist and professor of medicine at the University of Calgary.
"If we can show that training is also effective with resistance bands, then people with Type 2 diabetes could get the benefits of strength training without having to travel to a gym – and at a fraction of the cost."
In Type 2 diabetes, the body doesn't effectively use the insulin that the pancreas produces, leading to a buildup of sugar in the blood. The biggest risk factors for developing Type 2 diabetes are a family history of the illness, obesity and a sedentary lifestyle.
In Alberta, it's estimated at least 206,000 people have diabetes, of which 90-95 per cent are Type 2. That's about one in every 20 people.
Although Brodsky has only been involved in the study for a few weeks, she says she's already noticed a few benefits.
"I met with the dietitian who gave me some tips I never thought of. I'm trying to do what they say and I've already lost a little weight," she says.
Brodsky adds she enjoys the flexibility of the program and the convenience of the exercise bands.
To be eligible for the study, people must be at least 35 years of age or older, diagnosed with Type 2 diabetes, and not currently taking insulin. They must also be able to walk for 10 minutes without difficulty. Researchers are looking for 36 participants.
Every participant in the study will receive an exercise program. Participants will be randomly placed in one of three groups: aerobic training only, aerobic training plus home-based resistance band training, or aerobic plus group-based resistance band training.
Participants will be asked to maintain an exercise log, as well as wear an accelerometer, a small pager-like device that measures their daily physical activity. They'll receive instruction from fitness trainers in the use of the resistance bands and have access to a nutritionist for counselling about diet. The study requires a six-month commitment.
For more information, call 403-955-8115 or email exercise@ucalgary.ca