Work has just begun in some ways for mental health staff
Story by Sherri Gallant; photo by Lisa Squires
Thousands of people lost their homes and businesses a year ago in June, when the South Saskatchewan River spilled its banks into the low-lying areas of Medicine Hat.
It's been a year since the mud and water receded, but the disaster is still taking a toll on many of the 10,000 residents who were evacuated – and others, as well.
Flood Recovery Mental Health Therapists Carolina Hall and Natalia Samayoa were hired to support the ongoing recovery by working in the flood-affected schools with students who were affected by the devastation. It didn't take long to realize that the need stretched far beyond the school grounds.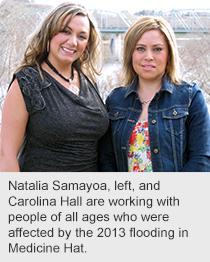 "We saw almost right away that just working in the schools wouldn't even begin to touch the scope of this," said Samayoa. "When we would connect with a student, it often would connect us with parents, seniors and adults in their lives who are also are affected, so it's grown into a community outreach program."
Some families have not returned to their homes or local schools within the flood zone, so student outreach extended to schools in other neighbourhoods.
After the immediate crisis passed and people started to move back to their homes, the daunting job of rebuilding their lives from scratch led to emotional trauma for many. "For a lot of people, this is just the beginning of the healing process," says Samayoa.
"Parents and seniors were coming forward and were really struggling after they were back in their homes," says Hall. "Some for a few days, some for a few weeks or even months were displaced from their homes. They lost everything. They came back and had to rebuild their homes. A lot of seniors are still feeling really isolated. But they don't want to go out. They're afraid the flood might happen again. They usually have a community within their seniors' homes where they can gather, play games and connect with one another, but those rooms were damaged and aren't yet rebuilt."
To help seniors stay connected with others, Hall and Samayoa started holding regular coffee groups at flood-affected Christ the King Church, which has become a central place for meetings and gatherings since the flood.
Hall, a registered provisional psychologist, says having the flexibility to shape their work according to need has enabled themto be creative and effective in their approach.
"It's not a typical position," Hall says. "Usually, we'd be assigned to three or four schools or we'd be in clinic all day. I am working in three schools, but a typical day might be doing some one-on-one therapy at one school, and then doing groups - we've developed groups around anxiety and anger management for schools affected by the flood. Then we're working with seniors and planning things for families."
Coralee Rahn, manager of addiction and mental health programs in the east part of South Zone, said from the beginning, teamwork and outreach has been central to the response.
"We were asked to join the inspection teams that were going to the flood-affected areas, and we talked to people right at their homes or at their places of business to check in, see how they were doing and make connections," recalls Rahn.
"That's not the typical way we provide services. We had staff at the evacuation centre and on the buses that were transporting individuals and families for meals and support. Very quickly our value became apparent in being able to help with the softer, people side of things so inspectors and utility people could go in and do their work."
While the immediate response was to connect with those directly impacted, it wasn't long before addiction and mental health staff were also reaching out to volunteers and other AHS staff, some of whom had lost their homes as well.
"These were people who had been working non-stop," says Rahn. "They were getting to the point of exhaustion. Some of our own staff had been affected, they were evacuated from their own homes and they were out helping other people in the same situation."
A local flood committee has since been created and meets monthly with a variety of community partners. Hall and Samayoa have also joined up with The Flood Psychosocial Committee that involves High River and Calgary, where solutions are being shared.
"Our days change every day," says Hall. "One thing I've learned is how people will isolate themselves when they don't know how to deal with what's going on. That's presented us with the challenge of finding ways to reach them."
Samayoa says she's been moved by the resiliency shown by children. "Sometimes the parents and the adults have struggled to take the time to deal with this traumatic event due to the overwhelming amount of stress and extra responsibilities that have been added to their lives. The children sometimes end up being the anchor for the parents, showing and sharing coping skills that they are learning and giving them a sense of hope. It's pretty humbling and pretty amazing."
"Once people get the supports in place, once they get a connection, once they know who we are and where they can find us and what we offer, I think they feel much better, knowing that resource is there, especially seniors," says Hall. "Many feel alone and don't think anyone else is going through the same things they are. Or they are possibly embarrassed to ask for help because they've always been resilient and never needed any mental health support before."
People of all ages have often expressed the fear of another flood.
"We provide them with strategies to help them cope with it, should it happen," says Hall. "I can't guarantee that it's not going to happen again, but I try to provide them with strategies to reduce those worries."