Take a ride
Story by and photo by Kirsten Goruk
Not every ride along with Emergency Medical Services (EMS) is an adrenaline-filled, non-stop day of high profile calls. Sometimes staff get to witness another side to the job, the every day, vital service that Alberta Health Services (AHS) provides to those in need, no matter what the call entails.
A few months ago I tagged along for a shift at the Grande Prairie EMS Station. It was a dark and freezing Monday morning when I was met with smiles from my crew for the day, paramedics Dean Provencher and Deb Wnuk.
"I think my interests have always been in the medical field," said Provencher, who's capped the ten year mark with AHS.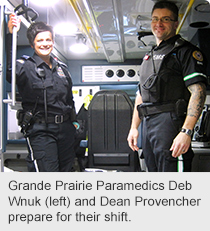 Trained as a massage therapist, his medical career progressed from there and he found himself applying to work with EMS.
Wnuk has 14 years experience with EMS, but she works casual with AHS and spends the majority of her time with STARS Air Ambulance.
Wnuk studied physical education at the University of Alberta, but in her third year she injured her knee and couldn't continue with the program. Instead, she chose to pursue emergency medicine.
"I was always interested in what ambulances do," she said. "My goal has always been to work rotary, fixed-wing and ground ambulance. I get bored easily."
The tones went off hours into our shift, just as we arrived at the Queen Elizabeth II Hospital to take part in Monday morning rounds. Instead of settling in for a discussion about asthma and other breathing-related diseases, we raced out to the ambulance.
Provencher pulled up the call information on a laptop. Once a call goes out over the radio dispatch system and a crew responds, all details are transmitted digitally.
The call was for a lift assist for a 65-year-old male. When we arrived on scene Provencher and Wnuk slipped seamlessly into work mode. They assessed the situation, asked a series of questions and determined the best way to lift him safely.
There were another few hours before our next call came in. In that time we'd caught the tail end of rounds and returned to the station where Wnuk and Provencher got to work on tidying up the place. Wnuk explained that their system for cleaning is similar to that of a firehouse where everyone works together.
I quizzed them about their jobs, what kinds of calls they've gone on, how the schedules work (there's a mixture of nights and days usually with four days off in between) and the area they cover (halfway to places such as Grande Cache, Beaverlodge and Valleyview).
Both agreed that they tend not to rehash or tell war stories about the tough calls. Some paramedics do, others don't. If there's something to be learned, they do go over that with other staff for experience and support.
"You get to see a lot of stuff in this job that you wouldn't even think of," Provencher said.
"You have to make sure that you manage your personal life and your professional life so that you maintain a balance. Otherwise you're not taking care of yourself."
Our second and last call of the shift was for a 90-year-old female with an altered level of consciousness. This one was hot, so we took off from the station with lights and sirens blaring.
The patient explained that she just hadn't been feeling good the last few days. Wnuk and Provencher checked her vitals including blood pressure, heart rate, and blood sugar.
The decision was made to bring her into the QEII Hospital for additional testing. As we arrived to transfer care to the ER staff, Provencher mentioned that while these kinds of calls aren't as dramatic or adrenaline-filled, a lot of EMS calls do involve caring for Grande Prairie's aging population. In 2013, an AHS report showed that an estimated 64 per cent of North Zone EMS patients were over the age of 65.
Regardless of what each call ends up being or who it involves, Provencher and Wnuk agreed that what they love most about their job is the chance to help people, to make a difference.
"The reason I love being a paramedic is because of the patients. We don't get a lot of thank-yous and we don't expect or need them, but when a patient does come back and say thank you, it means so much and makes the job that much more rewarding," Wnuk said.