Total contact casts a game-changer in healing foot ulcers
Story by Kirsten Goruk
It's taken a decade for Ian Irons to finally be cured of an ulcer on his foot but, thanks to a new cast treatment, he and his feet are a lot happier these days.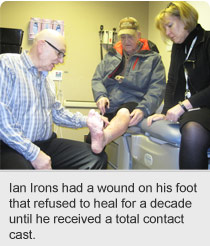 "Nothing seemed to help it," says Irons, 72. "Then they came up with this cast. I had it for close to three months and my ulcer is gone. Three months compared to 10 years is a huge difference."
Irons is undergoing a new therapy known as total contact cast treatment at the outpatient clinic at the Queen Elizabeth II Hospital in Grande Prairie. Ten years ago, he had a callus on his foot removed, but the wound never healed, so he was recommended for the innovative therapy.
"I could feel the difference right away when they put the cast on," he says.
Total contact cast therapy began as a clinical trial for diabetic foot ulcers a year ago, but was so successful it is now a treatment option.
It helps heal foot ulcers by distributing weight equally along the entire foot area. The entire cast, which provides padding and support, is in full contact with the foot and part of the leg, thus its name. It is covered with a walking boot. It relieves pressure on prominent areas of the foot, including ulcers, allowing them to heal.
Patients wear the cast, then once a week it is removed and the wound inspected. A new cast is reapplied and the boot is put back on. Depending on the severity of the ulcer, weekly casting may continue for up to several months.
"The key thing to healing a diabetic foot ulcer is trying to control the underlying medical concerns and to get pressure off the foot," says Leana de Jager, Alberta Health Services' Allied Health Area Manager for Grande Prairie and surrounding communities, and also an occupational therapist. "That's where the total contact cast comes in. It's the only method to completely offload pressure on a foot and allow clients to continue their daily routines."
Healing foot ulcers for patients with diabetes is particularly critical as the low blood flow related to the condition can lead to complications, possibly resulting in amputation.
Allan Kaufmann, 66, is a diabetic patient who lives in Valleyview, but made the weekly trek for total contact cast treatment. His foot ulcer had persisted for several months before he sought treatment, but following a few rounds of treatment with the cast, he was improving.
"The cast is a lot more cost-effective way to heal these wounds as long as you're prepared to commit to the instructions and the weekly checkups," Kaufmann says.
"It's helped me to learn about foot care; I didn't know anything before. The staff have been awesome."