Specially equipped vehicle to bring hospital-level care to rural patients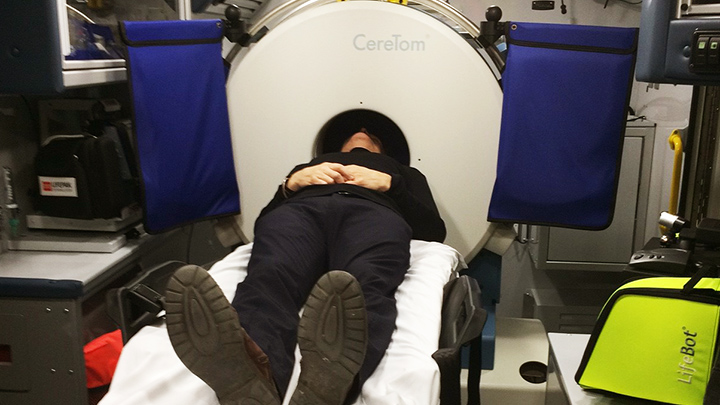 UPDATE
Since the unveiling of the AHS EMS stroke ambulance in November 2016, the program has been recognized by the Paramedic Chiefs of Canada (PCC) for excellence in innovative treatment and technology.
AHS EMS was presented the PCC Award of Excellence during the organization's annual leadership summit, held in Halifax, Nova Scotia, June 7-9, 2017.
The award is presented to any person (or team) who has developed and put in place an EMS process, method or program that demonstrates extraordinary achievement within the last three years.
---
ORIGINAL STORY
November 22, 2016
Story and Photo by Tadra Boulton
Alberta is now home to Canada's first Stroke Ambulance.
The specially built and equipped ambulance will travel to stroke patients in central and northern Alberta so they can be diagnosed and treated before arriving at hospital.
With the new vehicle, stroke diagnosis and treatment that was previously only available in hospitals will be brought directly to the patient. The Stroke Ambulance has its own built-in CT scanner, lab equipment, and video and audio communication technology.
"Reducing the door-to-treatment time is critical in saving a stroke patient's life and limiting disability," says Dr. Ashfaq Shuaib, Director of the Stroke Program University of Alberta Hospital. "By scanning the patient's brain and starting clot-busting drugs in the ambulance, we can actually cure them of the stroke – before they even reach the hospital."
The ambulance and its medical crew will be based at University of Alberta Hospital, northern Alberta's centre for stroke care.
"Extending stroke care into rural areas is significant, as nearly one quarter of stroke patients who receive acute stroke care at the University of Alberta Hospital come from beyond the Edmonton Zone," says Dr. Verna Yiu, President and CEO of Alberta Health Services.
Strokes occur when the flow of blood to the brain is interrupted (ischemic strokes), or when blood vessels in the brain rupture (hemorrhagic strokes), and cause brain cells in the affected area to die. When a patient suffers an ischemic stroke, there's a 4.5-hour window in which treatment will be effective, and the most common treatment to administer a clot-busting drug called tPA (tissue plasminogen activator).
A stroke can result in paralysis, loss of muscle control, pain, difficulty with language and speaking, and trouble with memory and thinking. Administering tPA within 60 minutes of a stroke has been shown to reduce mortality, reduce complications of the treatment, lessen disabilities and shorten inpatient hospital stays.
The total cost of the stroke ambulance project - $3.3 million - will be funded by donors to the University Hospital Foundation's Brain Centre Campaign. This includes the cost of the ambulance, anciliary equipment and research on the impact it has on patient outcomes. The 2016 Festival of Trees is a key partner in meeting this fundraising commitment.
The stroke ambulance is part of a three-year pilot project that will include research, training and education. The ambulance will be in use starting next year.