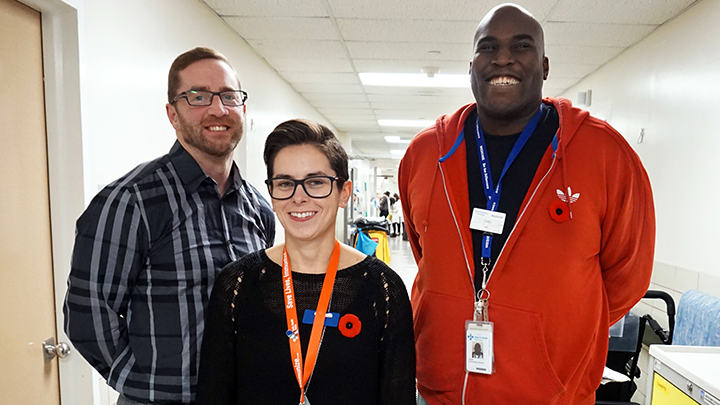 Provincial pilot develops tools to keep the peace, preserve safety of both staff and patients
Story & Photo by Andrea Martin
EDMONTON — Unit Manager Monica Cookson has been punched, kicked and called just about every colourful name under the sun. All while at work. By patients.
And yet, when she talks about her patients in Unit 41 of the Royal Alexandra Hospital — she speaks with respect and compassion.
"Many of our patients are from the inner city and disadvantaged backgrounds, or have dementia or other mental health concerns," says Cookson. "By treating everyone as an individual, we value what they have to give … with the aim of giving people their life back."
Still, seeing past a patient's rough edges — which sometimes result in verbal or physical aggression towards their care providers — is rarely easy, admits Critical Care Nurse Mark Wade.
"It's about seeing the person, not simply the behaviour or acute condition in the moment," adds Wade. "Many of the patients we treat are coping with substance abuse, mental health concerns or the repercussions of generations of trauma that affects their perception of trust, community and home."
According to Wade, it's this fear and uncertainty that can lead to angry and aggressive patient outbursts.
He credits the Royal Alex's Inner City Health and Wellness program, as well as new initiatives for harm reduction and addressing patient violence and aggression, for helping to call attention to the complexity of patient care for many vulnerable populations.
Regardless, patient aggression and violence are real hazards in healthcare — whether its name-calling, spitting, biting, throwing objects or physical/sexual assault. While reported incidents at AHS are on the rise, the numbers may not be painting a full picture because staff don't always know which behaviours to report, or that they should report them to their supervisor.
Recently, AHS piloted communication tools for teams that care for patients who pose a higher risk of aggression or violence. The Royal Alex's Unit 41 took part in the provincial pilot, which also focused on supporting conversations with patients and families and creating care plans to help manage challenging behaviours.
As part of the pilot, care teams used a new violence and aggression screening tool to document patient behaviours and assess overall risk. Based on the result, they would work to identify factors — such as changes to an established routine or alcohol withdrawal — that might trigger or escalate patient aggression to include in the patient's care plan. In addition, a small purple sticker could be added to a patient's chart to indicate special care considerations are in place to ensure worker safety and client care.
Clinical Nurse Educator Chidi Nwofor, acknowledged that although the pilot was well-received by frontline staff, more work is needed to create a culture where staff feel safe and supported.
"Within the unit, there's lot of peer support when things don't go well — and we want staff to know that it's OK to talk about it," says Nwofor. "We also arm staff with tools like non-violence crisis intervention training and trauma-informed education so they know how to best approach a patient who may get aggressive or violent."
He also admits that more work is needed to improve communications between clinical and support staff, such as porters, housekeepers and maintenance staff who work in patient care areas and could encounter an aggressive patient.
"It's about breaking down departmental silos to keep everyone informed and safe," says Nwofor.
Across all zones, 16 units participated in the patient aggression and alerts pilot that concluded this past September. This work is part of a broader security and violence-prevention program, led by Workplace Health and Safety in partnership with Zone Operations, Protective Services and all union groups to improve the safety of care environments.
For Wade, it all goes back to raising awareness and taking small positive steps.
"In our work, we have an opportunity to see a patient's resilience as opposed to their addiction or clinical diagnosis — and these actions reverberate in positive ways, for staff and patients alike."
Reporting is crucial to keep you safe at work. Report all incidents. If you need support, please call the Employee and Family Assistance Program at 1-877-273-3134.