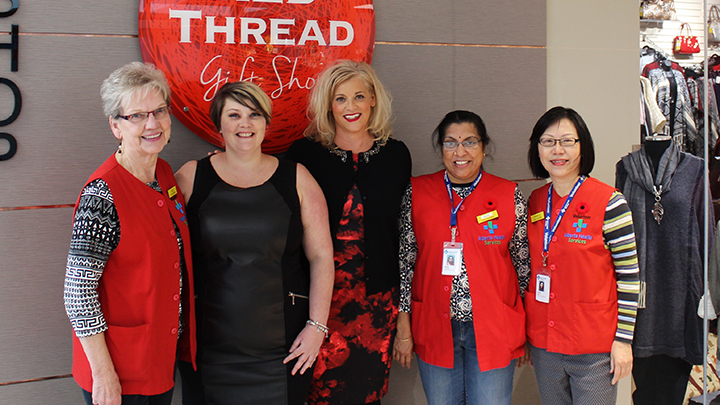 Calgary Zone shops win award of distinction from Canadian Gift Association
Story by Janet Mezzarobba | Photo by Blain Fairbairn
CALGARY — Fuzzy slippers, sparkly jewelry, fashionable accessories and a colourful crew of cute and cuddly stuffies. All the good stuff abounds at the Red Thread Gift Shops, appreciated by patients and staff alike for their wide variety of merchandise.
In fact, these cosy shops have become a big part of the landscape of the five acute care sites within the Calgary Zone. And their fame is spreading — as winners of the 2017 Canadian Retailer of Distinction Award — which brings national recognition from the Canadian Gift Association.
"Being awarded the 2017 Retailer of Distinction is such an honour for the Alberta Health Services Red Thread Gift Shop Program," says Michele Rondot, manager of Volunteer Resources in Calgary Zone.
"We have aspired to make the shops welcoming for customers, and have honed a reputation for carrying beautiful, unique merchandise," she adds. "We have worked to create the perfect oasis for patients, families, visitors, and staff in what is typically a stressful environment. This award has given us an absolute boost of positive energy."
For more than 30 years, hospital gift shops within the Calgary Zone operated independently, but began to work together more collaboratively in 2010. Earlier this year, the six shops were branded under the name Red Thread Gift Shop to honour the amazing contribution of their AHS volunteers who wear red vests.
"The concept of the Red Thread Shops was developed by our retail purchaser, Susan Morrison, who has worked to bring the shopping experience to a whole new level," adds Rondot.
According to Morrison, working with the Red Thread Gift Shops has been her most rewarding experience in more than 30 years of working in the retail industry.
"It takes a great team of engaged volunteers and staff to make our Red Thread Program a success," says Morrison. "We're all driven with a passionate desire to achieve the highest results possible, knowing the proceeds of our work are reinvested back into many hospital support programs. I look forward with great anticipation and excitement in continuing to find new and unique products for our Red Thread Gift Shops."
Dode Stiles and Carole Vernon have worked as a volunteer team at the Alberta Children's Hospital shop location for close to six years. Both believe the shops provide an ambiance that raises the spirits of the patients and families at a time they need it most.
"The minute people come into the shops — no matter what they're going through — they have a smile on their face," says Vernon.
Stiles agrees: "As a volunteer, being inside this beautiful shop makes my time here so enjoyable. I love looking at the new displays each week and helping people find that perfect gift."
"We would like to thank all of our volunteers for their contributions as the Red Thread Gift Shops would not exist without them," says Rondot. "We would also like to thank the Canadian Gift Association for their continued and ongoing support of retailers throughout Canada."
Over the last 10 years, the hospital gift shops have donated over $8.4 million dollars to support patient care and comfort. Annually, more than 450 volunteers generously donate over 46,000 hours to ensure the shops provide compassionate customer service to every soul that comes through the doors.
The Canadian Retailer of Distinction Award recognizes outstanding achievements and celebrates the spirit of Canadian retail. Submissions for the award are evaluated based on several criteria including: merchandising and store design, business achievement, community involvement and originality.
This year's awards will be presented at a celebratory reception at the Spring Toronto Gift Fair in January.