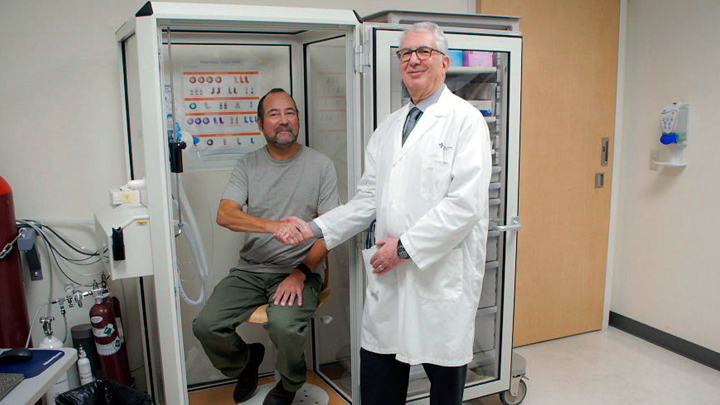 Patients living longer as Edmonton's Cystic Fibrosis clinic marks milestone anniversary
Story by Sharman Hnatiuk | Photo by Dellas Wreikkinen
When one of Canada's first Cystic Fibrosis (CF) clinics dedicated to the care of adults opened 40 years ago at the University of Alberta Hospital, Grant Serink was one of the first 16 patients.
After his diagnosis with CF at the age of 6, Serink's parents were told he wouldn't likely survive past the age of 11. But the boy soldiered on to defy the odds — and today the 63-year-old city resident is breathing easier thanks to a double-lung transplant he received five years ago.
"Over the years the team from the CF clinic have taken very good care of me," says Serink. "When my health was deteriorating in my mid-50s, I told them they have to keep me alive until I get my transplant. And they did. I am very thankful."
Respirologist Dr. Neil Brown, 72, recalls how in 1977 he co-founded the Edmonton CF clinic, which is now located in the Kaye Edmonton Clinic.
At the time, the median age of CF patient survival was 22 years. Today, the clinic's multidisciplinary team — physicians, nurses, physiotherapists, dietitians and social workers — manages 180 patients, 26 with lung transplants, with their median age of survival now more than 50 years.
"CF patients are survivors," says Dr. Brown. "I am amazed by the attitude of so many of our patients. They have a horrible disease, often spending hours in therapy each day just to breathe, and yet they're still are able to maintain productive careers, build families and live active lives despite that."
CF is the most common fatal genetic disease affecting Canadian children and young adults, causing various effects on the body, but mainly within the digestive system and lungs. About 600 Albertans live with CF.
While the degree of CF severity differs from person to person, the persistence and ongoing infection in the lungs, with destruction of lungs and loss of lung function, eventually leads to death for the majority who live with the condition. At present, there is no cure.
As the UAH CF clinic staff and physicians celebrate 40 years, Dr. Brown is quick to point out that the patients are the real stars of the celebration.
"So many of our patients were given short life expectancies when they got diagnosed," says Dr. Brown. "But today, three of the patients in our clinic are 70 years of age or older, including a 79-year-old."