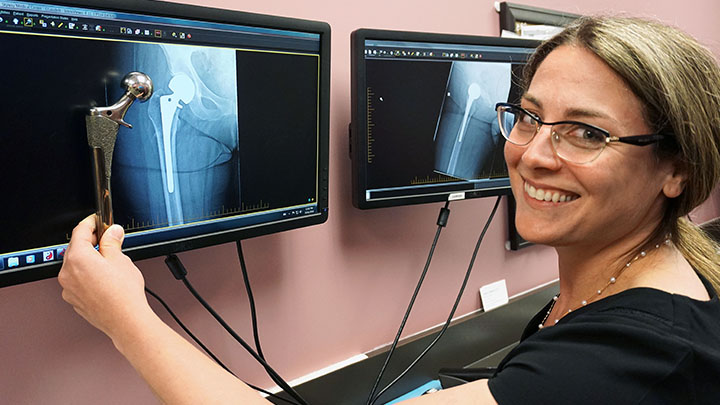 Quality Innovation Fund empowers front-line care teams to drive quality improvement across the clinical spectrum
Story by Gregory Kennedy
Hip-fracture patients in Central Alberta now get their surgery faster and enjoy better care thanks to Alberta Health Services (AHS) Quality Innovation Fund and a project led by local orthopedic surgeon Dr. Cinzia Gaudelli.
The provincial target for these patients to access surgery within 48 hours of injury is 90 per cent — but only 63.5 per cent were meeting this target at Red Deer Regional Hospital Centre a few years ago.
"We were definitely way below provincial targets for getting our hip fractures into surgery," says Dr. Gaudelli.
"This project allowed us to focus and find a local solution to the problems we were having. Our primary goal was to decrease the mortality with hip-fracture patients by decreasing their time to surgery."
Today, 93.8 per cent get their surgery within 48 hours, while 54.7 per cent head to the OR within 24 hours — exceeding the provincial target on both counts — and increasing their odds of making a full recovery.
The fact that Red Deer plays a key regional role posed a special challenge to her team.
"In Central Alberta, 40 to 50 per cent of our hip-fracture patients come from outlying, rural hospitals," Gaudelli explains. "This creates an obstacle which many of the other sites don't have — which is that our patients have to be transported here. At the outset, we were at a loss as to how to get these people into surgery faster.
"We created a whole new protocol and pathway to get these people in. All hip fracture patients are now admitted urgently to Red Deer Regional Hospital Centre from any rural hospital, with a bed waiting for them when they arrive."
As well as introducing a rapid assessment and upgraded booking status for all hip-fracture patients, Dr. Gaudelli and her team are now able to get patients back to their home hospital faster, allowing them to be closer to their friends and family as they recover.
"AHS physicians and clinicians play a pivotal role in not only identifying areas where we can improve, but also creating solutions," says Dr. Ted Braun, Vice President and Medical Director, Central and Southern Alberta.
"It's the ingenuity and expertise of frontline physicians and staff that helps make quality improvement possible."
Dr. Gaudelli's project was made possible in part by the Quality Innovation (QI) Fund, which supports front-line care teams that are driving quality improvement efforts in a variety of clinical areas.
Since 2014/15, AHS has provided funding for 96 physician-led projects across the province to improve healthcare services. Projects range from community to acute care, younger to older patients and support local innovation, best practice, increasing capacity, improving transitions and focus on patient-and family-centred care.
"By capitalizing on the knowledge and experience of our healthcare talent on the front line, our Quality Innovation Fund promotes homegrown solutions," says Francois Belanger, Vice President, Quality and Chief Medical Officer for AHS.
"We salute the forward thinking of Dr. Gaudelli and her team, one of many funded, physician-led teams around the province who are making positive strides in quality improvement for our patients."
Currently there are 40 QI projects underway across the five AHS zones, with $750,000 in funding provided in 2017/18.
This QI project builds on the work being done by the Alberta Bone and Joint Fragility and Stability Strategic Clinical Network, which for years has been collecting and analyzing hip-fracture data as well as facilitating initiatives such as this.
"It feels great," Dr. Gaudelli says of her results to date. "We're getting hip-fracture patients in quickly. We found a solution and resolved the problem. That part's done.
"We don't have people wait at the peripheral hospital anymore. As soon as we hear of them, we just put them in an ambulance and send them over."
For more information on project criteria and how to apply to the Quality Innovation Fund, click here.