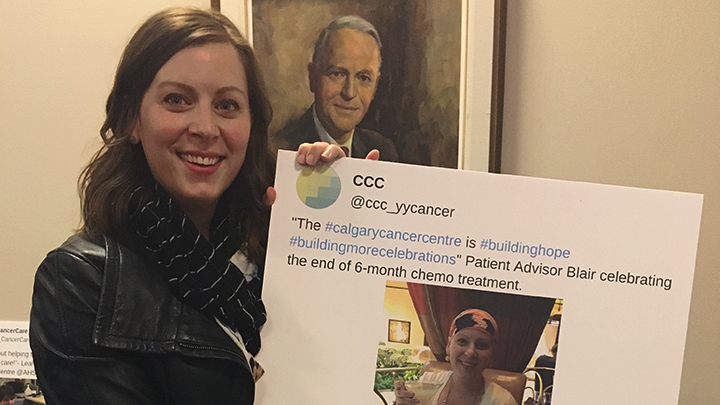 In advisory council role, Blair Makwana brings her voice to the planning table
Story by Kristin Whitworth & Blair Makwana
CALGARY — To cancer survivor Blair Makwana's way of thinking, having countless hours of cancer treatment in a clinical setting shouldn't have to feel like a clinical setting.
The 34-year-old was diagnosed with osteosarcoma in her left fibula in late 2012. Chemotherapy began the next week at the Tom Baker Cancer Centre (TBCC) and continued until January 2013. Following surgery in February 2013, a new round of chemotherapy ran from March through May of that same year.
"For eight hours a day, three days in a row, every three weeks — I would be in that day unit," says Makwana. "Even now I am exhausted thinking about it."
According to Makwana, the constant traffic in and out of the unit made her days feel so much longer and often unpleasant. Patients would come for hydration, transfusions, assistance with injections and less lengthy chemotherapies.
When she heard about plans to build the new Calgary Cancer Centre (CCC), she says she felt a need to share her concerns and ensure it would be built in a way that would do away with these disruptions and make the experience far more pleasant for future patents.
"I thought that it would be great if the new day unit was designed with length of stay in mind," says Makwana. "Kind of like a 'short-term' and 'long-term' parking system."
To put her thoughts in to action, Makwana applied to become a member of the Alberta Health Services Patient and Family Advisory Council (PFAC) for both the Tom Baker and the new Calgary cancer centre.

Now a member, Makwana has brought her voice to the CCC planning table for four years … and counting.
"What is most important for me in the new cancer centre is that it doesn't have the clinical feel of a hospital," says Makwana. "Essentially this cancer centre will be so much more than a hospital. I like thinking about it as a community building with clinical components."
Makwana suggested to the planning committee that, if the building had a continuous flow, it would be easier to find one's way around.
"I thought of a local mall, which is essentially a loop; you can start at any entrance and work your way around. Hallways that didn't simply end with a staircase would be wonderful."
With the potential for some very long days, Makwana also suggested a walking area, gathering area and/or visiting area in the day unit.
"When I asked the nurses if I could go for a walk with my IV, the answer was 'no' because I needed to be monitored. This of course makes sense. However, being sick is hard enough — and being forced to be sick in a small hospital bed didn't help."
She also suggested the unit perimeter could be made into a walking path so nurses could still monitor each patient. As well, she suggested there be more opportunity to enjoy views from the window.
Her suggestions were heard, and the approved CCC design is confirmed to have an abundance of natural light and interesting views to the outdoors.
Makwana says that being involved with the advisory council has proven a positive and valuable experience for her.
"Participating in discussions about the new facility and seeing firsthand efforts being made by care teams in the Tom Baker Cancer Centre has given me purpose and changed my narrative of a shocking event," says Makwana.
"Having a cancer diagnosis is traumatic, but with the right delivery, sensitivity and a facility design that facilitates ease of care and inspires hope, it should be an improvement for the patients and families who will visit."
Five years later, Makwana is cancer-free.
"I've been fortunate to have great care and find myself in a situation where as an active member of the council, I can share stories of positive experiences, and the ways cancer has changed my life and the life of my family, and at the same time, influence future design."
Sharing her stories with the various care teams, construction and design groups who seek patient and family input will influence the way the building is planned and built, thus ensuring the new Calgary Cancer Centre will be patient- and family-focused.
"The Calgary Cancer Centre will be a place that people will experience beginnings and endings, hear news of trauma, experience pain as well as heal and celebrate moments of success," says Makwana.
"The details of this building, the hallways, rooms, amenities, reception desks, lighting, and areas of convenience will hopefully improve the overall experiences of both patient and families in the future."
See video of Makwana's cancer story as told through her eyes.