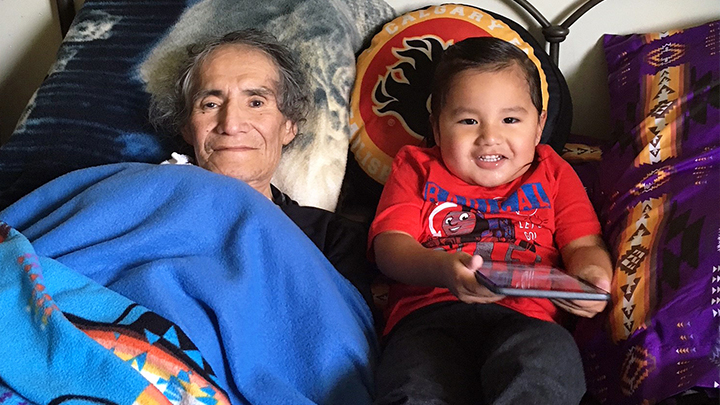 Healthcare staff, Siksika Nation family work together on Celebration of Life
Story by Sherri Gallant | Photo courtesy of Joe Old Woman family
Joe Old Woman knew he was dying, but the 68-year-old husband, father, grandfather (and cowboy) had come to terms with it. A resident of the Siksika Nation, Joe had been looking forward to a Celebration of Life, which was being organized by his family as a way to thank his community for their prayers and support during his illness.
The event was to take place at the home of Joe and his wife Debbie last October, but before it could happen his health took a turn for the worse — and he was admitted to the Bassano Health Centre.
Site Manager Simone Empson heard from Joe's family how disappointed he was to think his ceremony would be cancelled. Then they asked Empson if she would help them hold it on hospital grounds.
Knowing that time was of the essence, health Centre staff, the Town of Bassano and a host of others soon rolled up their sleeves right alongside Joe's family to make it happen.
"We knew it was very important to him, because he wanted to thank everyone who had supported him throughout his illness," says Empson. "Joe was a very popular patient, and at times there might be up to 100 of his family members in the building at once.
"Our palliative care nurse Cindy Young, who is amazing at her job and just a great person, had her hands pretty full just doing what she does best — and making Joe's very large family feel at ease. It was pretty awesome to watch her in action."
AHS Fire Marshall Chris Maloney selected a safe area on the grounds for the teepee to be erected.
"The area was in plain view of Joe's room so he could see it clearly," says Maloney. "I kept the snow removed at the teepee location and kept an access walkway clear for the duration of the teepee being here. I really don't feel like I did much other than offer my full support when needed, and I tried my best to make their time at the Bassano Health Centre a memorable and peaceful experience. I personally thought it was a really cool idea and would assist with it again in a heartbeat."
Under clear blue skies on the Saturday afternoon of Oct. 28, the ceremony took place directly outside the window of Joe's room.
The Horn Society — one of seven societies within the Siksika Tribe — erected a teepee on the grass for a Sweetgrass Ceremony and smudging. Meanwhile, the Siksika Fire Department set up a large tent beside the teepee, where a feast for more than 70 people was served. The family also set up picnic tables, provided by the Town of Bassano.
When all was said and done, Joe could see the teepee from his window every day after that, until the day he died, two weeks later.
"To me, this was truly patient-centred care," says Empson. "It was wonderful that we could work together with the family to make something like this happen for Joe; something that was so important to him and to his family. I believe it truly gave him peace."
For one special Health Care Aide, Helen Stuart, the event will always hold special meaning. She devised a way for Joe to be taken outside to the teepee, as he was unable to walk — and came in on her day off to assist her patient.
"We used a Geri Chair, which is a reclining chair used in hospitals and long-term care, and I was able to bundle him up nice and warm on there so we could wheel him out," she says.
"I was very touched and honoured to be given permission to enter the teepee. I was not permitted to remain after I brought him in, but was a very spiritual experience just being present in there for a short time."
Empson says a plaque presented to Bassano Health Centre by Joe's wife Debbie — with an engraved message of appreciation and a photo of the teepee at sunset — now hangs in a prominent place of honour.