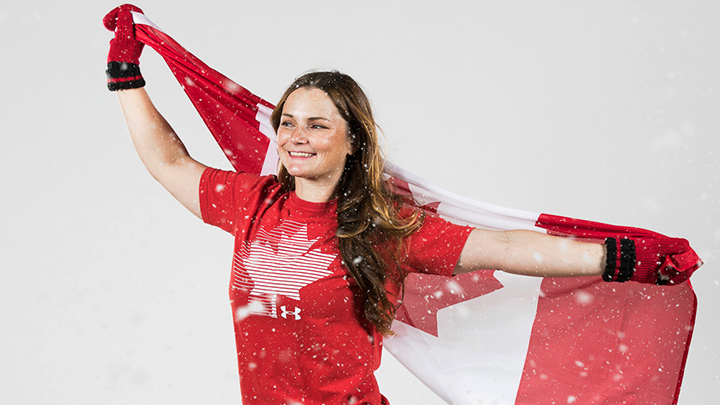 'Nothing in life is given to you — and nothing is guaranteed'
Story by Vicki Hall | Photo courtesy Lanette Prediger
On the day she had hoped to fly to South Korea, Dr. Lanette Prediger slipped on her stethoscope and scrubs and reported for work in urgent care at the South Calgary Health Centre.
At age 38, Prediger narrowly missed out on qualifying for the 2018 Pyeongchang Winter Games. Canada sent three women to compete in skeleton — a sport which, in layman's terms, entails sliding headfirst down an ice chute at 140 km/h on a sled that looks like a cafeteria tray.
Prediger finished an agonizing fourth in the Canadian rankings — in spite of winning the 2017/18 Intercontinental Cup title.
"To come so close, it's definitely heartbreaking," says Prediger, the Site Medical Lead for South Calgary Urgent Care, before starting her evening shift. "But I'm glad to be at work. It's a different world entirely. I come here and we help people. That feels good.
"If you let it, sports can consume your life. And medicine can, too. So it's good to have balance. I really do believe you are more successful if you have balance and perspective."
With time comes perspective, and Prediger says she knows she'll be able to look back and realize she did everything in her power to qualify for Pyeongchang.
"I feel like I had a good season," she says. "There's not much more that I could have done, so that's reassuring. I can sleep at night.
"This was a huge opportunity. But at all points in life, you've got to try to look into the future and look forward. And sports is time-limited."
Prediger first learned about limited time at age 24 in her second year of medical school. While practising lymph node exams, Prediger's partner discovered a bump around her clavicle.
Initially concerned, but not alarmed, Prediger travelled to India that summer to take a neurology elective at a government hospital. After returning to Canada, she discovered more enlarged nodes and went to the doctor.
Tests revealed she had Hodgkin's Lymphoma, a cancer of the white blood cells.
"Most 24-year-olds aren't really faced with their mortality, and that's something I had to face very early on," she says. "I knew I could die from it, and that was something that had never crossed my mind before as a young, active, healthy person.
"It gave me a sense of if you want to do something, go for it. Get it done. Nothing in life is given to you — and nothing is guaranteed."
That outlook fuelled Prediger in her quest to simultaneously become a great physician and an Olympian.
"I try to live a life with no regrets," she says. "If I want something, I go for it. If I get it, that's great. If I don't, I definitely learn from failure as well." At age 24, when she first came off her cancer battle, Prediger couldn't even jog for a minute on the river paths near her home. Over the next 14 years, she became a doctor and a world-class athlete.
Failure? Not a chance.
"I know overall that I've been very blessed and I'm very grateful," she says. "To come this far and be right at the cusp of going to the Olympics? I think if you look at it from that perspective, it's amazing.
"It's unbelievable the amount of support I get from my colleagues at this site. My physician colleagues will fill in for me if I need to go to a race in Europe — even when it's at the last second. I've never missed training or a race. And the rest of the staff — the nurses, the ortho techs, the unit clerks — they seem so proud. "I feel such a sense of disappointment that I couldn't deliver it (competing in the Olympics) for them, because they have been 100 per cent of supportive of me when I win races and when I lose."