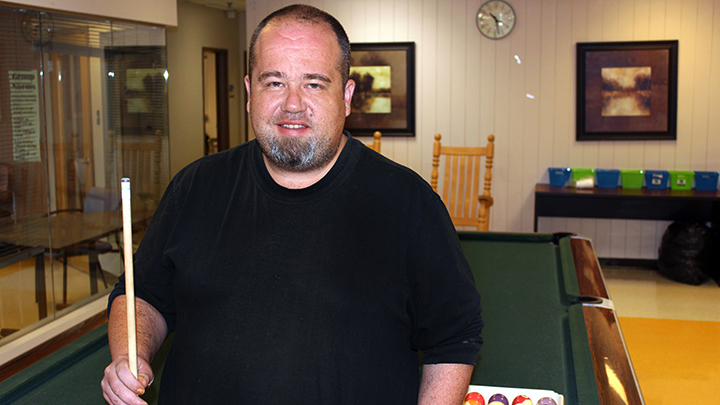 Donors step up to improve care at Foothills Medical Centre
Story & photo by Blain Fairbairn
CALGARY — For people needing medications to control their mental health issues, the expansion of the injection clinic at Foothills Medical Centre's (FMC) Adult Outpatient Mental Health Unit is helping them keep their lives on an even keel.
One of those people is David Cairns, whose story began years ago with a feeling that something wasn't quite right.
It was 2001 when his sense of reality began to change. He didn't know it at the time, but he was in the grip of a psychotic episode.

"What I was going through was in effect like being off my feet," he says. "There were other symptoms, but the biggest thing I was aware of was feeling off my feet."

Diagnosed with schizophrenia, Cairns finally started to feel grounded after receiving treatment at FMC's Adult Outpatient Mental Health Unit in 2009. During that time, he's returned to the unit's injection clinic every three weeks and says antipsychotic medication and care are making a big difference.
"I got my first injection and slowly, steadily over time things improved," says Cairns. "I went into a positive state; the symptoms changed, then started disappearing."
Cairns is one of the roughly 400 patients the clinic sees on average each month. And the demand has been steadily growing; from 2015 to 2016 there has been a 54 per cent increase in new clients to the clinic.

That's why a recent expansion and renovation is an important milestone in the clinic's service. Funded by private and corporate donors and completed in December 2017, the clinic has doubled in size from two to four treatment spaces and added a number of amenities including modern furnishings, seating and televisions to help clients feel at ease while awaiting an injection of long-lasting antipsychotic medication.

"The new injection space has allowed us to increase service capacity on a number of fronts," says Alex England, clinic nurse and a key driver in the expansion project.

"Where once we had nurses lining up with our clients waiting to access two treatment spaces, we can now administer four injection treatments simultaneously."
According to MyHealth Alberta, schizophrenia is a mental disorder that affects how a person thinks and relates to the world. It can involve delusional thinking, hallucinations and paranoia. Antipsychotic medications, counselling and therapy can reduce symptoms.
England says the expansion was more than three years in the making and included visits to similar spaces in the country to determine the ideal model for a modern, welcoming clinic.
And that makes a difference for Natasha Vollman, a young mother who was diagnosed with schizophrenia in 2010 after being hospitalized with psychosis. She looks forward to receiving treatment because the clinic is a place in which she feels cared for and respected.

"The nurses are very good at what they do," says Vollman. "They're very warm and they talk to me without making me feel like I'm sick."
As for Cairns, he no longer feels "off his feet."
"Now I'm at the point where I live a very good life — for a guy who's a regular patient. I'm very happy with things."