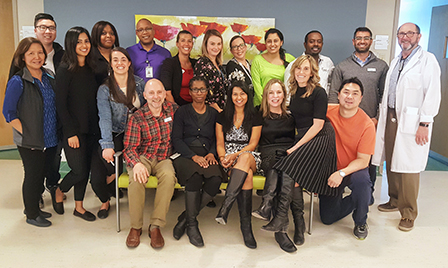 Psychiatric team redecorates to bring beauty, conversation and joy to patients
Story by Lisa Sutherland
CALGARY — With stark lighting, cold floors and bare walls, Unit 25 looked like a stereotypical hospital ward.
But less than a year ago, Bud Brunner came up with an idea for his psychiatric inpatient Unit 25 at Peter Lougheed Hospital.
The registered nurse hankered to try something different to enrich the experience for patients on his unit. So he and a group of colleagues pulled together to devise "Revive 25" — a beautification project with the aim of creating a more homelike setting for their patients.
"By virtue of being in a hospital setting, the surroundings are really very clinical, which isn't very conducive to healing for the mental health patient" says Brunner. "So a team of us embarked on a project to see how we could make the unit more welcoming and bring elements of nature into the therapeutic milieu."
Staff donated their own money, received support with funds from senior leadership, profited from a bake sale to the tune of $880.65, received a donation from Spiritual Care, and Calgary Health Trust to chip in — all to help pay for upgrades.
Their efforts led to the unit being repainted in the rejuvenating colours of nature, the purchase of new furniture for patient comfort and new artwork to spruce up the empty walls. Plants were brought in for patients to practice their green thumb, while an aquarium put on display the aquatic lives of some little finned friends: Wanda, Sushi, Spotty and Elsa.
"The art, plants and fish provide a good opportunity for us to build rapport with patients and to approach them and start real conversations," says Brunner. "When I witness a patient looking at the art, tending to the plants, or watching the fish, I know we've made a difference and enriched their lives."
Brandi, one of the patients on the unit who cares for the greenery, finds this activity very therapeutic. "It's giving me a purpose which is good for my self-esteem," she says. "I'm also finding emotional healing as it reminds me of my grandma who used to love to garden."
Brunner adds: "Lack of human contact can be detrimental to the human psyche, and mental health patients can be very isolated. We've found that giving patients tasks such as feeding the fish, or tending to the plants, gives them something to succeed in and a reason to leave their rooms and make human connections."
Although Unit 25 has been revived, the team isn't quite finished yet.
Up next, they're aiming to raise funds to put images of nature in every patient's room, to further their mission of bringing more light and happiness into the lives of their patients. But for now, they're enjoying the refurbished unit they all had a hand in creating.
"We're all really proud of our unit," said Alana Gilbert, Licensed Practical Nurse, Unit 25. "The work we've done has really made it a wonderful place and makes me look forward to coming to work every day."